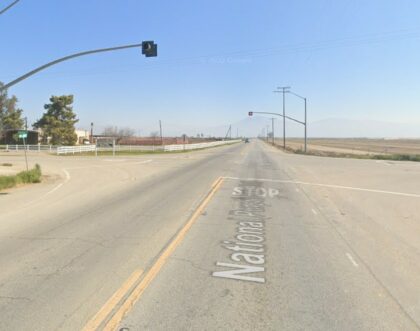 A 3-year-old girl was killed after being struck by a vehicle at a private residence in Bakersfield on Wednesday night, May 10, 2023.
According to California Highway Patrol, they received a report of a collision involving a pickup truck and a little girl near Bear Mountain Boulevard and Adobe Road at 6:52 p.m.
Kern County Fire Department, California Highway Patrol, Hall Ambulance, and the Kern County Sheriff's Office responded to the scene.
The 2020 GMC driver reportedly struck the girl in the driveway of the private property.
Family members transported the girl to Kern Medical Hospital with serious injuries. She was later pronounced dead.
The authorities are still investigating the fatal crash.

Competent Pedestrian Accident Attorneys in Bakersfield
Pedestrians in California are protected from collisions comparable to drivers, passengers, and cyclists. Pedestrians injured or killed in an accident may file a claim against the driver at fault.
Our attorneys will guide you through the process by assessing your case, advising on subsequent steps, and determining the factors that may affect the settlement offer.
Our Bakersfield pedestrian accident lawyers at Arash Law, led by Arash Khorsandi, Esq., have extensive experience advocating for pedestrians injured in accidents. Our clients have been awarded $400 million in compensation.
You may contact us for a free consultation by calling (888) 488-1391 or completing our "Do I Have a Case?" form.
What to Do After a Pedestrian Accident
After a vehicular collision, maintaining composure can be challenging. Your actions and words at the accident scene can substantially impact the outcome of your claim against the at-fault party. You should follow the steps below to preserve the value of your personal injury claim.
It is essential to report the collision to local authorities and to request a copy of the accident report.
Take photographs of the involved vehicle, accident scene, injuries, and property damage.
You should capture images of the license plate, the insurance card, and the driver's license.
It is advisable to gather potential eyewitnesses' names and contact details.
It is recommended that you seek immediate medical care. All affected areas should be reported to your primary care physician or doctor.
Maintain documentation of your injuries, recovery, and associated medical costs.
Consult an experienced lawyer before speaking to an insurance adjuster or accepting a settlement offer.
You should avoid revealing information about your accident or the circumstances leading to it on social media.
Call us at (888) 488-1391 to discuss your accident with one of our pedestrian accident attorneys.
Fatal Pedestrian Accident Statistics
Pedestrian accidents pose an increased risk of fatalities and severe injuries. Pedestrians are severely unprotected in collisions.
The number of pedestrian accidents causing injuries and fatalities on American roads is rising. In recent decades, pedestrian accidents have accounted for most traffic fatalities.
According to the GHSA, pedestrian fatalities increased by 27% between 2007 and 2016, while other traffic-related deaths decreased by 14%.
The statistics indicate that over 88 people die every minute. Hospitals treated 137,000 non-fatal pedestrian injuries in 2017. There were 5,977 pedestrian deaths in the United States in 2017.
A recent study indicates that pedestrians in California are more likely to experience injuries or die than pedestrians in other states. California documented 55,000 pedestrian injuries and 6,514 fatalities in 2020.