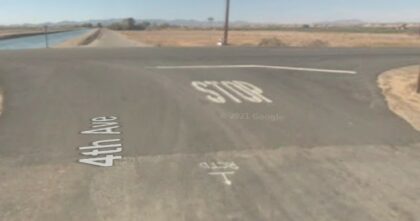 At least one person was killed after a two-vehicle collision north of Blythe Wednesday morning, May 10, 2023.
The California Highway Patrol responded to the scene just after 8:00 a.m. in an unincorporated area in Riverside County, at Route 95 between Eighth and Fourth Avenues.
The crash reportedly involved a red Subaru and an unidentified vehicle. One person was declared dead at the scene, and the coroner's office was called at around 8:30 a.m.
Details regarding the other parties involved and whether or not they sustained injuries were not immediately available.
They closed the road as the authorities evaluated the scene. Investigation into the fatal crash continues.

Competent Auto Accident Lawyers in Riverside County
In California, those who sustained injuries and damages in a car accident can file a lawsuit against the other parties involved. When handling insurance claims and related issues, it's crucial to take quick action and request the assistance of legal professionals.
Please don't hesitate to contact our reputable law firm if you or someone you know needs help to file a personal injury or wrongful death claim after being hurt or dying in a car accident.
You can rely on our dependable Riverside County auto accident lawyers at Arash Law, led by Arash Khorsandi, Esq., to successfully represent you in these court proceedings. For California clients, our firm has recovered more than $400 million.
Call (888) 488-1391 to set up a free consultation, or complete the "Do I Have a Case?" form.
What to Do After a Car Accident
Being involved in a car accident can be upsetting and difficult. In addition to injuries to the body, there may also be emotional and financial effects that need to be taken care of. Knowing what to do after a car accident can improve your safety, protect your legal rights, and help you receive compensation for any damages you may have sustained. After a car accident, follow these steps:
Examine yourself and others for injuries, and if necessary, seek medical attention.
Move your car to a safe area, such as the road shoulder.
Get help from the authorities: Report the collision by contacting the police or the highway patrol.
Exchange information: Get the other driver's name, contact details, insurance information, and other pertinent information.
Including any injuries and vehicle damage, take pictures of the accident scene.
Obtaining witness information. Document the names and contact information of any eyewitnesses to the accident.
Notify your insurance provider: As soon as possible, inform your insurance provider about the accident.
Consult a lawyer: If you've sustained injuries or property damage, consult one of our reputable car accident attorneys to assist with your claim.
Fatal Car Accident Statistics
NHTSA data shows that traffic fatalities increased by 7.2% in 2020, reaching 38,824 lives lost in accidents, their highest number since 2007. The Fatality Analysis Reporting System (FARS) estimates that 35,766 people sustained injuries and 38,824 died due to fatal vehicle collisions in 2020.
As crashes and injuries have decreased overall, fatal crashes have increased by 6.8%, and the fatality rate per 100 million vehicle miles has risen to 1.34, the highest since 2007. According to the NHTSA, 45% of fatal crashes involve speeding, being under the influence, or not wearing seatbelts.
The NHTSA recommends implementing the National Roadway Safety Strategy to reduce traffic fatalities and severe injuries.