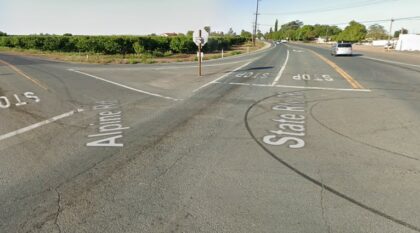 An elderly couple was killed in a two-vehicle collision along Highway 26, east of Stockton, on Wednesday morning, May 10, 2023.
The California Highway Patrol reported that the deadly crash occurred shortly before 11:00 a.m. near the intersection of Alpine Road and Highway 26.
Two vehicles reportedly collided. A silver Infiniti was traveling east when, for unknown reasons, it hit some gravel on the shoulder and crossed into the opposite traffic.
Once it veered into the westbound lane, an F-250 struck the Infiniti's passenger side. Which car the couple was in is unknown.
The San Joaquin County Coroner's Office identified the pair from Valley Springs as Donna N., 68, and Benino N., 71. The condition of the other driver remains unknown.
The investigation continues, including whether alcohol or drugs played a role in the fatal crash.

Experienced Car Accident Lawyers in Stockton, San Joaquin County
If you or a loved one have been hurt in a car accident and would like to speak with an attorney about your legal options, we are happy to provide a free consultation.
If you've been hurt in a vehicle crash in California, you need to talk to a top-notch attorney right now.
During your free consultation with one of our well-respected California auto accident lawyers, we will assess your case, explain the next stages, and analyze any documents or evidence that may affect the settlement offer.
Arash Law, led by Arash Khorsandi Esq., has a team of reputable San Joaquin County car accident lawyers that have successfully fought for victims' rights and recovered over $500 million in compensation thus far.
Contact (888) 488-1391 or click the "Do I Have a Case?" on our website to schedule a free consultation with one of our lawyers.
What to Do After a Car Accident
An automobile accident can happen at any time and in any place. This means we should always be prepared for the unexpected. Experienced drivers understand the importance of being prepared for such incidents on the road. You should now be better equipped to take necessary precautions for your safety.
If you have any questions, don't hesitate to contact us. If you need help, you can reach us at (888) 488-1391. Here are some steps you can take, or those of the victim's loved ones, after a car crash:
Getting as much data as possible from the accident scene is crucial. Discuss the situation with the other people involved and get their information.
Make a police report right away and avoid taking responsibility. Within a few days of the incident, either the police station where the report was filed or the California DMV will have copies of the accident report available for pickup. It is required to be included with your claim submission.
Gather as much data as possible about possible witnesses. Get their names and numbers as soon as possible.
Get checked out ASAP. If you've been harmed, see a doctor even if you don't think you need to.
The insurance company needs to be notified. Before consulting with an attorney focusing on auto accident cases, do not make any agreements with other insurance providers.
Fatal Two-Vehicle Accident Statistics
The annual death toll from car accidents in the United States is in the thousands. Two million people are killed, and ten times that many are wounded in car crashes every year around the world.
The National Safety Council reports an 8.3 percent increase in traffic-related fatalities in 2020. That spike followed a three-year downturn. In 2019, there were 39,107 fatalities due to automobile accidents in the United States. By the year 2020, however, that number had risen to 42,338.
In addition, the Fatality Analysis Reporting System (FARS) of the United States Department of Transportation stated that in 2020, 3,847 people died in California car accidents, as recorded by the Insurance Institute for Highway Safety (IIHS). Nearly half of these fatalities (1,587 or 41%) were caused by collisions involving two or more vehicles. 2,260 people (or 59%) were killed in single-car accidents.
77% of all injuries, 71% of all crashes leading to injuries, and 72% of all accidents included at least two cars. About eight thousand people were killed or injured in angle collisions in 2020.