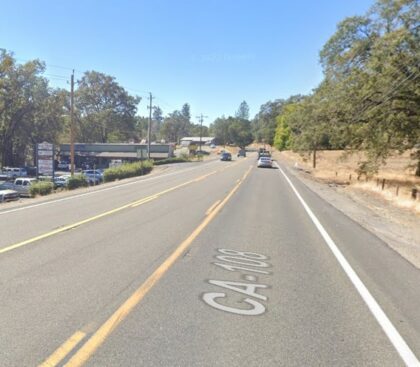 One person was killed, and another suffered injuries following a multi-vehicle DUI collision in Sonora on Thursday afternoon, May 11, 2023.
According to the California Highway Patrol, the crash occurred around 5:00 p.m. on Highway 108, west of Draper Mine Road.
Authorities stated that a 49-year-old from Jamestown, identified as Tammi T., drove a Ram 2500 truck westbound while intoxicated. The Ram slammed into the back of a Kia, slowing down in front of her to make a left turn into a private residence.
The Kia was then pushed into the path of an oncoming Ford F350 truck driven by Samuel L. of Jamestown, causing a head-on collision. The 39-year-old Kia driver was airlifted to Doctor's Medical Center in Modesto, where he later died from his injuries.
The drunk driver was transported to Adventist Health Sonora for treatment of minor injuries. She was later arrested for causing a crash with injuries while under the influence of alcohol, drugs, or medications.
Officials said the Ford driver was uninjured despite his truck overturning.
The authorities have yet to release further details about the crash and the victims.

Expert Drunk Driving Accident Victim Lawyers in Sonora, Tuolumne County
DUI accident victims in California have two options for seeking compensation: the insurance company or a courtroom. Before doing anything else, we recommend consulting our attorneys. Please call our renowned attorneys if you have suffered severe injuries or a loved one was killed due to someone else's carelessness.
During this free meeting, one of our attorneys will evaluate your case, outline the following steps, and discuss everything that may impact the settlement offer.
Our expert Sonora, Tuolumne County drunk driving accident lawyers at Arash Law, led by Arash Khorsandi, Esq., have extensive experience and recognition advocating for accident victims, with awarded compensation totaling $500 million.
If you want a free consultation with our legal team, call us today at (888) 488-1391 or complete our "Do I Have a Case?" form online.
What To Do After A DUI Accident
Injuries or losing loved ones in DUI accidents can be unexpected and sad. Victims of drunk drivers in California are encouraged to seek legal representation.
Filing an insurance claim can be complicated, but we're here to help. This page includes a simple online form that will help us prepare to investigate your claim during your free consultation with our legal expert. This guide can help you protect your rights.
Maintain your calm and concentration.
Take a picture of the driver's license, insurance information, and license plate of the vehicle at fault.
Call the police and request an accident report.
Keep meticulous records of everything that happened, including your injuries, the weather, the road conditions, and the automobile that hit you.
Collect the names and contact information of potential witnesses.
Do not negotiate with an insurance company or accept a settlement offer before consulting a lawyer.
Avoid posting about accidents or how they happened on social media.
Contact an experienced California DUI accident attorney immediately.
Fatal DUI Accident Statistics
Drivers are considered alcohol-impaired in the United States when their blood alcohol concentration (BAC) hits or exceeds 0.08 grams per deciliter (g/dL), according to the National Highway Traffic Safety Administration (NHTSA). Crashes involving a driver with a BAC of 0.08 g/dL or above that result in a fatality are classified as alcohol-impaired driving crashes, and the subsequent deaths are classified as alcohol-impaired driving fatalities.
Alcohol-impaired driving crashes accounted for 30% of all traffic-related fatalities in 2020, killing 11,654 people. Between 2019 and 2020, the number of fatalities increased by 14.3%.
Individuals aged 21–24 and 25–34 had the highest percentages of drunk drivers in fatal crashes in 2020, with motorcycle riders having the highest incidence.