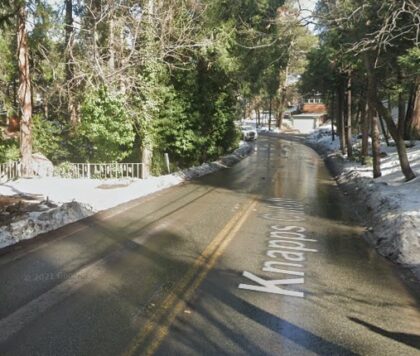 A 13-year-old girl sustained injuries after a hit-and-run crash in Crestline, San Bernardino County, on Friday afternoon, May 12, 2023.
According to the California Highway Patrol, at approximately 4:14 p.m., authorities received multiple reports about the collision that occurred after the girl got off the bus. A witness pursued the suspect that fled the scene after striking the victim.
Authorities stated that following collisions with several parked cars, it became evident that the driver was impaired as they continued westbound on Knapps. The witness followed the driver until they arrived at a house on an unknown side street.
Officials arrived at the location and discovered the driver lying in a driveway near his vehicle. The driver was then taken to a nearby hospital for a medical evaluation before being transferred to jail.
Officials also added that the victim sustained moderate but not life-threatening injuries. No further details were released regarding the crash and the victim.
Investigations into the collision are still ongoing.

San Bernardino County DUI Accident Victim Lawyers Specializing in Hit-and-Run Accidents
DUI-related injuries can be overwhelming and terrifying. Medical expenses and lost wages can lead to financial difficulties. If you have been injured in a DUI accident, our DUI accident victim attorneys in California, who specialize in hit-and-run accidents, will eagerly help you file a claim.
Even though it may be challenging to prevent drunk-driving accidents, California law protects those injured in such collisions.
Our experienced San Bernardino County drunk driving accident victim lawyers at Arash Law, led by Arash Khorsandi, Esq., have the skills and experience to represent victims successfully in court proceedings. Our firm has recovered over $400 million in compensation.
To schedule your free consultation, call us at (888) 488-1391 or complete our "Do I Have a Case?" form.
What Should You Do After A DUI Accident?
Accidents involving a driver under the influence can result in physical injuries, emotional trauma, and financial difficulties. In the event of an accident, it is crucial to safeguard your rights, safety, and health by taking the necessary precautions. Here are measures to cope with the aftermath:
You must promptly examine your body for injuries and seek medical attention. Evaluate the other participants' condition or situation.
Inform the authorities of the collision. Officers will investigate whether the driver was under the influence of alcohol or drugs.
Obtain the at-fault motorist's name, contact information, license plate number, and insurance information.
It is advantageous to capture photographs of the accident scene, including the damaged vehicles and any injuries sustained.
Provide your insurance company with all pertinent information regarding the accident.
To find out how our attorneys can assist you as a victim of a DUI accident, please call (888) 488-1391.
DUI Accident Statistics
According to the NHTSA, approximately 37 people per day are killed in drunk driving accidents in the United States, or one death every 39 minutes. In 2020, intoxicated driving caused 11,654 traffic deaths, an increase of 14% from the previous year.
According to the California DUI Management Information System study, catastrophic alcohol-related collisions increased by 5.8% between 2016 and 2017. Driving under the influence of alcohol poses a substantial danger to the driver and other motorists. Drunk drivers damage the environment by wasting two billion liters of fuel.
In 2019, there were 10,142 intoxicated driving fatalities in the United States and 949 in California. Compared to the national rate of 3,1, the state's rate is 2,4 per 100,000 residents. In 2014, over 28.1% of traffic fatalities in the United States and 26.3% in California were attributed to intoxicated driving.