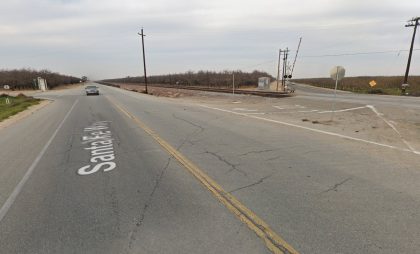 One unidentified person was killed following a fatal train crash near Shafter on Friday afternoon, May 13, 2022.
The fatal accident occurred at approximately 2:00 p.m. on Santa Fe Way near Orange Street near Shafter.
A pickup truck and an Amtrak train collided for unclear reasons. The pickup truck was then dragged several hundred feet and burst into flames before the train stopped.
The pickup truck was then pinned underneath the train following the crash. The driver of the truck was pronounced dead at the scene.
Some passengers on the train sustained minor injuries and were treated at the scene. They were all evacuated safely.
Local authorities are further investigating the case.


Fatal Train Crash Statistics
Train accidents are frequently fatal and result in severe injuries. Given the extreme weight and speed of trains, it is no surprise that collisions between trains and cars can be physically damaging.
Trains are critical to the American economy, reliably transporting cargo across the country. Trains may be a regular part of your cityscape depending on where you live, whereas others may only notice trains on cross-country trips.
Unfortunately, train accidents continue to be common across the country. According to the US Department of Transportation, nearly 6,000 train-car accidents occur in the United States each year. Most of these accidents occur at railroad crossings, and approximately 600 deaths and 23,000 injuries.
On California train tracks in 2016, there were 232 fatalities and injuries (not including railroad crossings). This figure increased to 247 in 2017 and 248 in 2018.
Derailments, poorly maintained tracks, noncompliance with safety standards, inadequate security, and other negligence issues are the most common causes of train accidents.
Kern County Train Crash Accident Lawyers
A train accident can result in serious injury or death. If a loved one was killed in a train accident, you could file a wrongful death claim to receive compensation.
People injured or killed in California railroad accidents have the legal right to seek compensation for their losses. This category includes medical bills, pain and suffering, missed pay, and a decreased quality of life.
Victims of accidents have two years from the date of the incident to file a claim. If you're dealing with a municipally operated public transportation system, keep this in mind. If you're unsure about a defendant or when to file charges, you should consult with an attorney.
To schedule a free case evaluation, please call Arash Law at (888) 488-1391 or email us. Our Kern County train accident attorneys have extensive experience dealing with insurance companies. They are aware of the difficulties that victims of motorcycle accidents face, and they know how to protect their clients' claims from being undervalued. Allow us to handle the paperwork so you can focus on healing from your injuries.