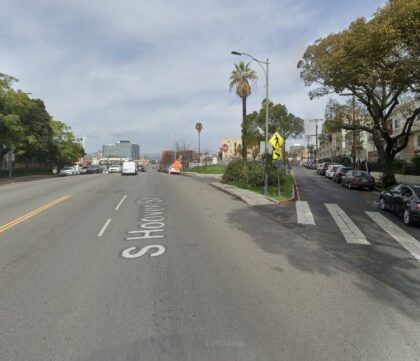 A bicyclist suffered severe injuries following a hit-and-run collision in Westlake, Los Angeles, on Saturday evening, May 13, 2023.
According to the Los Angeles Police Department, the collision occurred at Hoover and Carondelet streets when an older model white Nissan Sentra hit a cyclist at about 8:45 p.m.
Authorities stated that the victim fell on the hood and windshield of the vehicle before rolling off and landing on the street. Officials also added that the Nissan was likely damaged in the front end, hood, and windshield, leaving the cyclist with serious but non-life-threatening injuries.
There is a reward of up to $25,000 for information leading to the driver's conviction or a civil compromise resolution.
Anyone with information is encouraged to contact Detective Juan Campos at 213-833-3713 or 31480@lapd.online.
The crash investigation continues.

Hit-and-Run Accident Lawyers in Los Angeles County
If you or a loved one has suffered severe injuries or death due to someone else's negligence, California residents affected by hit-and-run accidents can seek compensation by submitting an insurance claim or initiating a legal case. Contact our team of qualified California attorneys for legal representation in hit-and-run cases.
During the free consultation, an attorney will evaluate your case, define the following steps, and consider all the factors influencing the settlement offer.
You can rely on our most trusted Los Angeles hit-and-run accident lawyers at Arash Law, under the direction of Arash Khorsandi, Esq., to effectively represent you in these court proceedings. Our firm has recovered more than $400 million for California clients.
If you want to speak with one of our lawyers, please call (888) 488-1391 or fill out the "Do I Have a Case?" form.
What Should I Do After A Hit-And-Run Accident?
You can seek compensation for your losses if the responsible motorist fails to stop following an accident. You can strengthen your legal claim by assisting law enforcement in identifying and apprehending the motorist. Please follow these steps.
Collecting as many details as possible at the accident scene is crucial. Take photographs or note the vehicle's make, model, license plate, and color.
Notify the authorities and obtain a report from the California Department of Motor Vehicles (DMV) or the local police. This report can support your claim.
Gather the names and contact details of potential witnesses at the scene.
Seek medical attention immediately, even if you feel fine. Tests and imaging can help identify internal injuries that may not manifest obvious symptoms.
Notify your private insurance companies as soon as possible. Consult a reputable attorney specializing in hit-and-run accidents before accepting an insurance company's settlement offer.
Hit-And-Run Accident Statistics
Failing to help or notify authorities following an accident is illegal in the United States. Criminal offenses include fleeing the scene of an accident and causing it.
In 2015, the National Highway Traffic Safety Administration reported 737,100 hit-and-run accidents in the United States. This information indicates that a hit-and-run occurs every 43 seconds in the United States. In 2016, these incidents claimed 2,049 lives.
Between 2010 and 2019, 2,948 hit-and-run collisions in California resulted in 3,056 fatalities. According to available data, California has one of the highest rates of this type of accident.