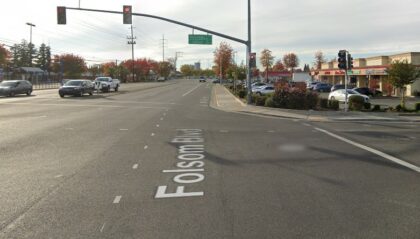 A male rider, identified as Warren M., was injured after a hit-and-run motorcycle vs. car crash on Folsom Boulevard, Sacramento County, Monday night, May 15, 2023.
According to the California Highway Patrol, the vehicle struck the rider of the Harley near Bradshaw Road.
Minster claimed he was hit by the vehicle pretty hard, causing him to flip multiple times due to the impact. It appeared that the car had entered oncoming traffic from the opposite side of the street and was moving alongside him as he tried to move out of the way.
Numerous witnesses stopped to check his physical well-being. They also told him and the law enforcement officers about what they had seen just before the collision.
He was transported to the hospital for medical attention. As of Tuesday, May 16, 2023, he was released from the hospital, recovering from a broken back.
The driver took off and fled the scene.
The CHP is handling the investigation. The Sacramento County Sheriff's Office also responded to the accident.

Reliable Hit-and-Run Accident Attorneys in Sacramento County
To seek compensation, hit-and-run accident victims in California may file a lawsuit or an insurance claim. Don't hesitate to contact our renowned California hit-and-run accident lawyers if you were hurt or a loved one died due to someone else's carelessness.
Our firm provides a free consultation, during which one of our Sacramento County hit-and-run accident attorneys will review your case, outline the following steps, and review the variables that could affect the final settlement amount.
Our attorneys at Arash Law, led by Arash Khorsandi, helped accident victims recover over $500 million in compensation. We can assist you if you have any questions. Call (888) 488-1391 to schedule your free consultation or complete the "Do I Have a Case?" form.
What Should You Do After a Hit-and-Run Accident?
The at-fault driver might be liable for your losses if he fails to stop after the collision. You can strengthen your compensation claim by helping law enforcement find and apprehend the driver after a hit-and-run collision. Follow these steps:
Gathering as much information as possible following an accident is crucial. Note the car's color, license plate, make, and model.
Accidents must be reported to the authorities right away. It is essential to get a copy of the accident report as soon as possible from the local police department or California DMV. It can be used as evidence to back up your claim.
Obtain the names and phone numbers of any potential witnesses.
Report the collision to your insurers right away. Before speaking to a hit-and-run accident lawyer, do not accept an insurance company's settlement offer.
Call (888) 488-1391 to speak about the collision with one of our experienced hit-and-run accident lawyers.
Hit-and-Run Accident Statistics
In the US, it is against the law to leave the scene of an accident without helping the victim or calling the authorities. Leaving the scene of an accident and causing one are both crimes.
In the United States in 2015, there were 737,100 hit-and-run accidents, according to the National Highway Traffic Safety Administration.
According to this statistic, a hit-and-run occurs in the US every 43 seconds. A total of 2,049 people died in hit-and-run incidents in 2016.
Between 2010 and 2019, 2,948 hit-and-run crashes in California resulted in 3,056 fatalities. Compared to other states, California has one of the highest rates of this kind of accident.