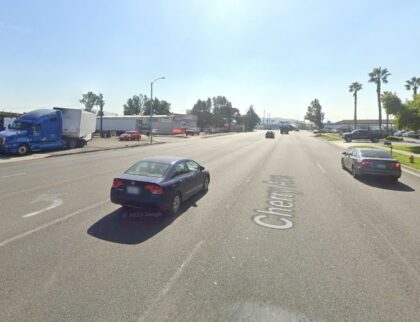 A female passenger was potentially injured and taken to the hospital after a long reckless pursuit in Fontana on Monday evening, May 15, 2023.
According to the Fontana Police Department, the incident occurred at 10:56 p.m. at the 10000 block of Cherry Avenue.
The pursuit occurred when law enforcement discovered a white 2017 Kia Optima at a gas station. Upon their attempt to stop the vehicle, the Kia fled, initiating a lengthy pursuit that proceeded northbound on Cherry Avenue and eventually onto the northbound Interstate 15 Freeway.
After exiting the I-15 at Highway 138, the driver, Chris P., a 42-year-old parolee, continued leading the pursuing authorities deep into the mountains.
The pursuit finally ended near Dark Canyon Road and Pilot Rock Road, leading to the driver's apprehension. Perkins was subsequently booked at the West Valley Detention Center.
During the pursuit, a female passenger seated in the back of the vehicle had a seizure and was taken to a nearby hospital by ambulance with unspecified injuries for medical treatment. Additionally, the authorities released another male adult passenger without taking any further action.

Reckless Accident Victim Lawyers in Fontana, San Bernardino County
If you or your loved ones have been victims of reckless accidents that caused significant injuries or loss of life, you can seek legal recourse against the drivers responsible. Consulting with an attorney will help you understand your rights and navigate the potential avenues for seeking compensation.
During the initial consultation with a knowledgeable attorney, they will thoroughly examine the specifics of your case, guide the best course of action to pursue, and shed light on the various factors that can impact the final settlement amount.
You can rely on our most trusted San Bernardino County reckless driving accident lawyers at Arash Law, under the direction of Arash Khorsandi, Esq., to effectively represent you in these court proceedings. Our firm has recovered more than $400 million for California clients.
If you want to speak with one of our lawyers, please call (888) 488-1391 or fill out the "Do I Have a Case?" form.
What to Do After Reckless Driving Accident
Knowing the right steps after a reckless driving accident is crucial. This guide provides a concise overview: ensure safety, seek medical attention, gather information, and consult a legal professional to protect your rights and seek compensation.
Ensure Safety: Prioritize your safety and that of others involved. If in immediate danger, move to a safe location.
Seek Medical Attention: Check for injuries and seek immediate medical care. Even seemingly minor injuries should be evaluated by a medical professional.
Contact Law Enforcement: Report the accident to the appropriate authorities to create an official record.
Gather Information: Collect important details, including names, contact information, and insurance details of the other driver(s). Take photos of the scene, vehicle damage, and visible injuries.
Document the Incident: Write a detailed account of the accident, noting the date, time, location, road, and weather conditions.
Notify Your Insurance Company: Inform your insurance provider promptly and provide the necessary details for the claim.
Consult with an Attorney: Seek guidance from a personal injury attorney experienced in car accidents and reckless driving cases to understand your legal rights and pursue compensation for injuries and damages.
Reckless Accident Statistics
A March 2021 study by The Zebra examined the driving behaviors of 1,500 Americans, revealing insights on road rage and aggressive driving. The study unveiled that the most commonly witnessed act of road rage, as reported by drivers, was another driver angrily honking their horn, accounting for 45.4% of observed incidents.
Additionally, 38.9% of drivers observed fellow motorists using rude hand gestures to express their road rage. Regarding the most frustrating behavior exhibited by other drivers, 30% of respondents identified driving while distracted by a phone as the top annoyance, while only 6.8% considered traffic the most aggravating aspect of driving.
Interestingly, 26.5% of drivers indicated they found solace in listening to music or podcasts to calm down after experiencing anger while behind the wheel.