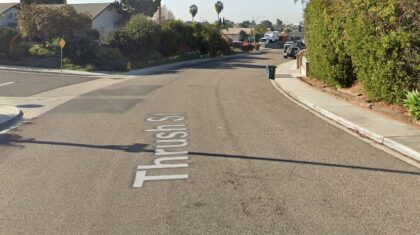 A 23-year-old woman sustained severe injuries after a hit-and-run crash involving a vandal near Valencia Park in San Diego Tuesday night, May 16, 2023.
According to the San Diego Police Department, an unidentified man struck the woman shortly after 10:30 p.m. near the 300 block of Thrush Street.
The man reportedly vandalized the woman's 2023 Nissan Altima while she was in her vehicle waiting for an ambulance to pass. After exiting her vehicle to assess the damage, the man fled the scene and struck her with his vehicle.
The woman sustained a fractured femur and a large laceration to her calf. She was transported to the hospital with serious but non-life-threatening injuries.
During his escape, the vandal crashed into a Chevrolet Malibu and a parked car. The Traffic Division of the SDPD is still investigating the hit-and-run accident and searching for the suspect.

Reliable Hit-and-Run Accident Attorneys in San Diego
In California, victims of hit-and-run accidents may file a lawsuit or an insurance claim to seek compensation. If you were injured or a loved one died due to someone else's negligence, don't hesitate to contact our renowned California hit-and-run accident attorneys.
Our firm provides a free consultation, during which one of our San Diego hit-and-run accident attorneys will review your case, explain the following steps, and discuss the factors that may influence the final settlement amount.
At Arash Law, led by Arash Khorsandi Esq., our lawyers have helped accident victims recover over $500 million in compensation.
If you have any questions, our attorneys are available to help. Call (888) 488-1391 or complete the "Do I Have a Case?" form to schedule your free consultation.
What Should You Do After a Hit-and-Run Accident?
If the driver involved in the collision does not pull over, he may be responsible for your losses. After a hit-and-run collision, you can strengthen your compensation claim by assisting law enforcement in locating and apprehending the driver. Following these steps:
After an accident, collecting as much information as possible is essential. Document the vehicle's make, model, license plate, and color.
Accidents must be immediately reported to the authorities. It is imperative to obtain a copy of the accident report from the California DMV or local police department as soon as possible. It can be used as evidence to support your claim.
Obtain the names and contact details of possible eyewitnesses.
Visit the hospital immediately for medical attention, even if you feel fine.
Report the accident immediately to your insurers. Do not accept an insurance company's settlement offer without consulting a hit-and-run accident attorney.
Dial (888) 488-1391 to discuss your accident with our knowledgeable hit-and-run accident attorneys.
Hit-and-Run Accident Statistics
It is illegal in the United States to leave the scene of an accident without rendering aid or notifying the police. Both causing an accident and fleeing the scene are criminal acts.
According to the National Highway Traffic Safety Administration, there were 737,100 hit-and-run accidents in the United States in 2015.
Every 43 seconds, a hit-and-run occurs in the US, according to this statistic. In 2016, hit-and-run accidents claimed 2,049 lives.
In California, 2,948 hit-and-run accidents caused 3,056 fatalities between 2010 and 2019. California has one of the highest rates of this type of accident compared to other states.