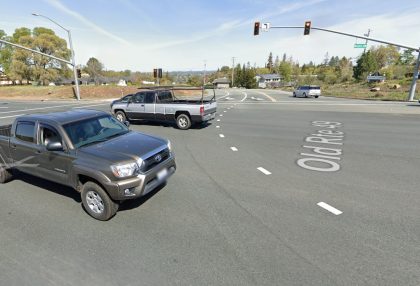 According to the authorities, a 15-year-old boy identified as Dylan Y. was killed after a hit-and-run crash in the Amador County community of Sutter Creek Tuesday evening, May 17, 2022.
According to the Sutter Creek Police Department, officers responded to the crash shortly after 8:30 p.m. in the area of Highway 49 and Valley View Way.
Officers believe the 15-year-old was struck while attempting to cross the road with another person.
The teen was rushed to a Sacramento hospital, where his condition was described as "grave."
The victim died of his injuries on Wednesday evening, according to police.
Yoacham was a sophomore student at Amador High School.
The alleged driver in the incident has since been identified as Matthew G., a 40-year-old Shingle Springs resident. With the help of the California Highway Patrol and the local sheriff's office, he was apprehended in El Dorado County.


Fatal Hit-and-Run Accident Statistics
Motorists who drive away after a collision with a victim are held responsible for their actions. As soon as they are found, they will be arrested and put on trial.
A driver who leaves the scene of an accident is responsible for one out of every five pedestrian deaths. Hit-and-run accidents cause 60% of pedestrian deaths.
According to the AAA Foundation for Traffic Safety, more than 680,000 hit-and-run accidents take place in the United States each year. People killed in hit-and-runs have increased by 7% annually since 2009.
There were 11% of hit-and-run accidents in 2015. In 2009, more than 1,800 people were killed, and more than 138,000 were injured as a result of hit-and-run drivers. 337 people lost their lives as a result of hit-and-runs in California in 2016.
These drivers often flee the scene due to intoxication, lack of a license, or the fear of the consequences.
Amador County Hit-and-Run Accident Lawyers
When a close family member or friend dies, everything changes. Insurers and other similar organizations could be among its users. As a precaution, you should speak with an attorney.
The family of the deceased victim should file lawsuits for wrongful death during this period. In a wrongful death case, the deceased's family members can file a lawsuit for damages such as lost wages and companionship, burial costs, pain, suffering, or emotional trauma.
Our Amador County hit-and-run accident lawyers at Arash Law are ready to fight aggressively for your rights and recover the compensation you deserve. Getting the best or the most favorable settlement for you is our top priority. You deserve to be free from financial issues when grieving a family member. Let us handle all your legal issues while you and your family focus on your physical and emotional recovery.
Call us at (888) 488-1391 or complete our intake form online for a free case evaluation with one of our experienced attorneys.