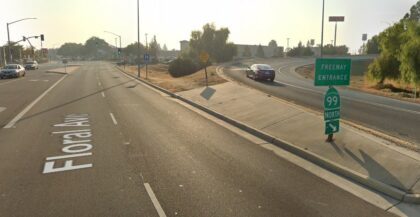 An elderly couple sustained major injuries after a single-vehicle crash in Selma late Wednesday night, May 17, 2023.
According to the California Highway Patrol, the collision occurred after 11:00 p.m. near Highway 99 on Floral Avenue.
The couple was reportedly heading to Floral and was on the off-ramp when their truck left the roadway and crashed through the Habit Burger Restaurant's fence.
The truck passed the drive-through, collided with a curb, became airborne, and clipped a shopping center sign. Then it rammed into Baz Allergy and Premium Urgent Care facilities.
The couple was transported to a local hospital with serious injuries. No one else was harmed in the accident.
Officers believe that a medical emergency experienced by the driver may have contributed to the accident. Further information regarding the accident was not immediately available.

Trustworthy Car Accident Lawyers in Selma, Fresno County
Our California personal injury and wrongful death attorneys would gladly help if you or a loved one were injured in a single-vehicle car accident. If you need assistance filing a claim or want to speak with one of our attorneys during a free consultation, please don't hesitate to contact our firm.
Our renowned Fresno County car accident lawyers at Arash Law, led by Arash Khorsandi, Esq., have extensive experience in this area. They specialize in representing accident victims. Our California clients have received over $500 million in compensation.
Feel free to contact us anytime. Call (888) 488-1391 to schedule your free consultation or fill out our "Do I Have a Case?" form.
What to Do After a Car Accident
Following a car accident, it can be helpful to use a car accident checklist to stay calm and organized. This checklist guides how to protect your rights by outlining what actions to take and what actions to avoid. In case of a collision, you can seek help and support. Please follow these steps:
Carefully check your body for injuries. It can be helpful to remain calm and composed in situations like this. Examine the condition of other people involved.
Report the accident to the authorities.
Avoid further accidents by turning on your hazard lights. Stay in a safe location until the authorities arrive.
After a collision, getting the driver's name, phone number, and insurance details is imperative. Also, please take pictures of the car, license plate, and other significant information.
Do not admit fault, not even to the police. Be honest and choose your words carefully when communicating with law enforcement officers.
To ensure your health and well-being and minimize injury severity, seek immediate medical attention.
It's critical to report accidents to your insurance company within the deadline. Please call right away and follow the instructions provided by the agent.
The insurance company of the person responsible for the accident may contact you on the day of the incident. Refrain from making recorded statements or accepting insurance settlement offers before seeking legal advice.
It's essential to gather and sort all relevant documents, such as the police report, medical bills, injury treatment plans, and driver's information, to ensure a smooth process.
If you need help with a car accident case, don't hesitate to contact our experienced car accident lawyers at (888) 488-1391.
Single-Vehicle Accident Statistics
Automobile accidents comprise a significant percentage of preventable fatalities and injuries in the United States. There have been two million fatalities and ten million injuries worldwide due to traffic accidents.
In 2020, traffic fatalities in the US rose by 8.3%, following a three-year decline, as the National Safety Council reported. There was an increase in US traffic fatalities from 2019 to 2020, with the number rising from 39,107 to 42,338.
In 2020, automobile accidents in California resulted in 3,847 deaths. Multi-vehicle accidents accounted for 1,587 fatalities, representing approximately 41% of the total deaths. Of the total fatalities, 59%, or 2,260, resulted from single-vehicle accidents. Approximately 8,000 individuals were killed or injured due to angle-collision accidents in 2020.