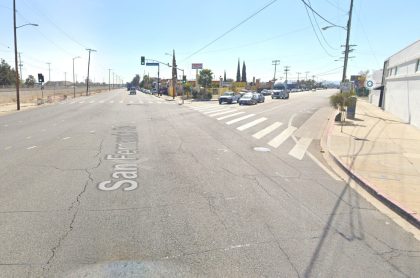 A woman was killed in a two-vehicle collision in which a car was sent careening into a power pole in Sun Valley late Wednesday night, May 18, 2022.
The fatal crash occurred at 10:45 p.m in the area of Lankershim Boulevard and San Fernando Road.
A Nissan Versa traveling east on Lankershim Boulevard ran a red light and collided with a Lexus traveling north on San Fernando Road, according to Los Angeles police.
The Nissan slammed into a power pole, knocking out power lines in the process.
According to police, the Nissan's driver, a woman in her 30s, died at the scene. She was not identified right away.
On Thursday morning, 555 L.A. Department of Water and Power customers were without power for several hours due to the collision. It has been restored since then.
The accident is still being investigated.


Fatal Two-Vehicle Crash Statistics
Despite numerous laws in place to protect drivers, statistics show that car accidents continue to occur. In the United States, vehicle collisions have recently increased. In 2018, 33,654 people were killed in vehicular accidents. Car accidents claimed the lives of 36,560 people.
In 2017, the National Highway Traffic Safety Administration (NHTSA) reported 3,304 car accidents in California, with 3,602 fatalities.
Los Angeles is one of America's largest cities, with a population of 3.96 million people in 2019. Unsurprisingly, city traffic is getting worse.
According to the LAPD, 42,357 traffic collisions will occur in 2020. The tragedies are thought to have claimed the lives of a total of 238 people.
Intoxicated or distracted drivers, speeders, and other lawbreakers on the road are all factors that contribute to these collisions.
Since 2020, there has been a 20% increase in DUI crashes and a 9% increase in fatal DUI crashes in Los Angeles, according to a LAist report.
Los Angeles County Car Accident Lawyers With a Winning Track Record
When a person is killed in a car accident, Arash Law concentrates on the case. Relatives are entitled to compensation for wrongful death, medical expenses, and other costs incurred by the deceased. Accidental death in a motor vehicle is a terrible tragedy that impacts many people's lives.
Wrongful death lawsuits may not be able to undo your loss, but they are a small step in the right direction toward holding the negligent party or individual accountable. Our Los Angeles County car accident lawyers at Arash Law will do everything they can to secure compensation for your injuries, medical expenses, lost wages, pain and suffering, and other road traffic-related expenses.
We understand the complexities of dealing with these difficult and psychological situations, and we cater to all of our customers' requirements.
Due to our contingency fee policy, you will not be required to pay anything until your case has been successfully resolved. In order to pay for these expensive but necessary medical care treatments, families may have to make sacrifices.
Please contact us at (888) 488-1391 for a free consultation with one of our skilled attorneys.