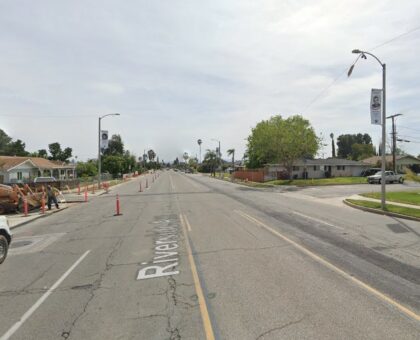 A 35-year-old male pedestrian, identified as Marvin M., was struck and killed by a vehicle in Rialto on Thursday evening, May 18, 2023.
Authorities rushed to the 900 block of North Riverside Avenue around 8:40 p.m. and discovered the pedestrian suffering from life-threatening injuries, according to the Rialto Police Department. Officers from Rialto Fire Department arrived minutes later and declared the victim dead at 8:45 p.m.
A 34-year-old San Bernardino resident, Lyeshia B., was discovered to be the only occupant and driver of the white Nissan Sentra that struck the victim. Officials said she was not injured in the collision.
Rialto P.D.'s Major Accident Investigation Team preliminary report indicated that the victim was walking westbound in the lanes of traffic on Riverside outside of a crosswalk when, for unknown reasons, he walked into the southbound lanes of traffic, colliding with the vehicle traveling southbound.
The driver stayed on the scene and cooperated with the authorities. There was no indication that alcohol played a role in this collision.
Anyone with information about the crash is urged to contact the authorities. The investigation is still ongoing.

Renowned Pedestrian Accident Attorneys in Rialto, San Bernardino County
In California, pedestrians have the same legal protection against collisions as motorists, passengers, and cyclists. Pedestrians injured or whose loved ones were killed in an accident may sue the negligent driver.
Our seasoned attorneys will review your case, guide the following steps, and assess any variables affecting the final settlement amount.
Our San Bernardino County pedestrian accident lawyers at Arash Law, led by Arash Khorsandi, Esq., have years of experience and in-depth knowledge of representing pedestrians injured in accidents. Our clients have been awarded $400 million in compensation.
Get a free consultation by filling out our "Do I Have a Case?" form or calling (888) 488-1391.
What To Do After A Pedestrian Accident
Maintaining composure following a loved one's death in a pedestrian accident can be difficult. Remember that your actions and words can significantly affect the outcome of your claim against the at-fault party. To preserve your personal injury claim value, follow the steps below.
Notify the relevant authorities of the collision and request a copy of the accident report.
Include pertinent information regarding the involved vehicle, the accident site, injuries, and property damage.
Obtain vital information regarding the license plate, driver's license, and vehicle insurance card.
It is advisable to compile the names and contact information of potential eyewitnesses.
Keep a record of all associated costs.
Counseling with a reputable injury lawyer is prudent before speaking with an insurance adjuster or accepting a settlement offer.
Avoid posting information about the disaster or its preceding events on social media.
Please contact us at (888) 488-1391 if you need our trustworthy pedestrian accident attorneys.
Fatal Pedestrian Accident Statistics
In the majority of pedestrian incidents, fatalities and serious injuries occur. Collisions pose a significant threat to the safety of pedestrians.
The number of pedestrian accidents and fatalities on U.S. roadways is increasing dramatically. In recent decades, pedestrian accidents have caused the most traffic fatalities.
From 2007 to 2016, the GHSA reported a 27% increase in pedestrian fatalities and a 14% decrease in all other traffic-related mortality.
Statistics show that 88 people die every minute. A total of 137,000 pedestrian injuries were treated in 2017. In the same year, 5,977 pedestrian fatalities occurred in the United States.
According to a recent study, pedestrians in California have a higher risk of injury or death than those in other states. There were 55,000 pedestrian injuries and 6,514 pedestrian fatalities in 2020.