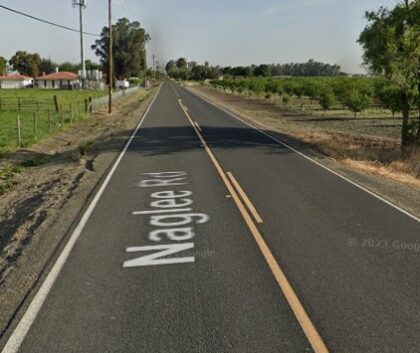 A 40-year-old man was killed, and a 46-year-old woman was injured after a single-vehicle rollover crash north of Tracy on Thursday afternoon, May 18, 2023.
According to the California Highway Patrol, the crash occurred at about 6:00 p.m. on Naglee Road, south of Bethany Road.
The BMW X5 carrying two Stockton residents was headed northbound on Naglee Road when it swerved off the road and onto the soft dirt shoulder. The male driver reportedly lost control of the vehicle, causing it to overturn.
The driver was ejected and thrown into the road's east side. He was not wearing a seatbelt, according to reports from the CHP.
The man received medical attention from emergency crews and was transported to San Joaquin County General Hospital, where he was later declared dead at 7:33 p.m.
The female passenger wore a seatbelt and remained in the vehicle as it flipped over. She only sustained minor injuries.
Further information regarding the crash was not immediately available.

Renowned Car Accident Attorneys in Tracy, San Joaquin County
If you or a loved one has been injured in a single-vehicle car accident, our California personal injury and wrongful death lawyers are here to help. Please contact our firm if you need assistance filing a claim or would like to speak with one of our attorneys during a free consultation.
Our notable San Joaquin County car accident attorneys at Arash Law, led by Arash Khorsandi, Esq., have a wealth of experience and accolades in representing car accident victims. Our California clients have been awarded $400 million in compensation.
Call (888) 488-1391 or complete our "Do I Have a Case?" form to schedule your free consultation.
What to Do After a Car Accident
Being injured in a car accident or losing a loved one can be distressing and upsetting. This checklist outlines the steps you should take and those you should avoid when dealing with the aftermath of the crash effectively. Take the following steps:
Check your body carefully for any injuries. Examine the status of the other people involved in the accident.
Notify the authorities of the collision. The crash will be documented in an official report by the police.
You can prevent further accidents by turning on your hazard lights. Stay in a safe location while the authorities arrive.
Obtaining the driver's name, contact information, and insurance information is critical following a collision. Take pictures of the vehicle, the license plate, and other essential details.
Do not admit fault to anyone, not even the authorities. When interacting with law enforcement, be truthful and cautious with your words.
Seek medical attention as soon as possible to reduce the severity of your wounds. Scans and tests can detect any internal injuries that do not show symptoms.
Notifying your insurance provider of accidents within the specified deadline is critical. When reporting the crash, follow the instructions provided by the agent.
The at-fault party's insurance provider may contact you on the day of the accident. Seek legal advice before making recorded statements or accepting insurance settlement offers.
Police reports, medical bills, injury treatment plans, and driver's license information must all be gathered and organized in a file.
If you need help with a car accident case, don't hesitate to contact our experienced car accident attorneys at (888) 488-1391.
Fatal Single-Vehicle Accident Statistics
The number of preventable fatalities and injuries from car accidents is high in the United States. Traffic accidents have caused ten million injuries and two million deaths worldwide.
According to the National Safety Council, traffic fatalities in the United States increased by 8.3% in 2020, following a three-year decline. Traffic fatalities in the United States increased from 39,107 to 42,338 between 2019 and 2020.
In California, 3,847 people died in traffic accidents in 2020. Multi-vehicle accidents claimed the lives of 1,587 people, accounting for 41% of all fatalities. Single-vehicle collisions claimed the lives of 2,260 people, accounting for 59% of all deaths. Angle-collision accidents killed or injured over 8,000 people in 2020.