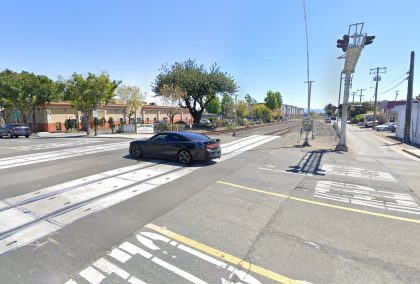 According to the police, a pedestrian woman was killed when fatally struck by a train in Fremont on Thursday afternoon, May 19, 2022.
The Fremont police responded around 3:35 p.m. to a report of a woman who had been hit by a train near the Centerville Train Depot at 37260 Fremont Blvd.
The strike occurred near the Fremont Boulevard train track crossing, according to Lt. Ricardo Cortés. At the scene, the woman was pronounced dead.
The Alameda County Sheriff's Coroner's Bureau on Friday, pending notification of her next of kin, the woman's identity was withheld.
Authorities are still looking into how the strike happened, according to Cortés.
According to Marc Magliari, an Amtrak spokesperson, the train that hit the woman was a Capitol Corridor train #538, which ran from San Jose to Auburn. He said no passengers or crew members aboard the train were hurt.
Following the strike, the train was canceled. After that, passengers were transferred to another train on a different track to continue their journey.
The trains, according to Magliari, are equipped with outward-facing cameras. Images from that system and data from the train's onboard data recorders will be examined.
The crash is still being investigated.


Fatal Train Accident Statistics
It isn't always the most cost-effective or efficient mode of transportation in the city." Travel-related injuries and deaths are becoming more common.
Train collisions frequently occur across the country. According to the Department of Transportation, approximately 5,800 train-car collisions occur in the United States. At railroad crossings, they're the most common. 600 people were killed, and 2,300 others were injured in these incidents.
According to the Federal Railroad Administration, approximately 80% of railroad crossings in the United States lack adequate warning devices (FRA).
Train derailments, poorly maintained tracks, a lack of safety regulations, and inadequate security are to blame for the majority of train accidents.
Alameda County Train Accident Lawyers
Too many people are killed or injured in train accidents that could have been avoided. Arash Law can assist you or a loved one who has recently been injured in a car accident. If you've been the victim of a heinous crime, we're here to help.
The family of an accident victim may be entitled to compensation. Medical expenses cover everything from pain and suffering to lost wages and diminished earning potential. Insurance companies are sympathetic to bereaved families. We will intervene if they are being exploited.
Our legal team stays up to date on the most recent developments in the field of wrongful death law. Our Alameda County train accident lawyers at Arash Law are here to help you and your family recover financial compensation for those who have lost a relative in a train accident. You can get started by calling (888) 488-1391 for a free consultation with one of our trusted lawyers.