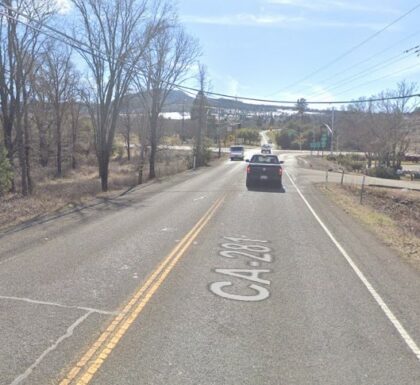 A 57-year-old rider identified as Philip L. was killed, and his passenger, 51-year-old Jessica R., suffered severe injuries following a motorcycle vs. vehicle collision in Kelseyville, Lake County, on Friday evening, May 19, 2023.
According to the California Highway Patrol, the crash occurred on Highway 281/Soda Bay Road west of Fairway Drive at 8:50 p.m.
Authorities stated that the motorcycle rider was driving a special construction motorcycle westbound on Soda Bay Road at an unknown speed with his passenger.
Officials added that 60-year-old, Michael P. of Lower Lake, was driving a 2006 Dodge Ram pickup carrying a boat trailer eastbound on Soda Bay Road before turning left into the Riviera Market at approximately 10 miles per hour.
The truck driver turned his vehicle left across the westbound lane, and into the motorcycle's path, for reasons that the CHP claimed are still under investigation.
Officials said the motorcycle's rider died due to his injuries, while his passenger suffered serious injuries and was sent to Santa Rosa Memorial Hospital. At the time of the collision, both were wearing helmets. Officials added that the truck driver was unharmed because he was wearing a seat belt.
No further information was revealed, and it was unclear whether drugs or alcohol played a role in the collision.

Best Motorcycle Accident Lawyers in Lake County
Contact our local personal injury firm if you or a loved one were injured in a motorcycle accident. Please contact us if you have questions about filing a claim or wish to discuss your options with an attorney.
Our esteemed Lake County motorcycle accident lawyers at Arash Law, led by Arash Khorsandi, Esq., are well-recognized and have extensive experience advocating for accident victims. We have already been awarded compensation totaling $400 million.
Contact (888) 488-1391 or fill out the "Do I Have a Case?" form to schedule a free consultation with one of our lawyers.
What Should You Do After A Motorcycle Accident?
After your motorcycle accident, you're undoubtedly terrified. You can seek legal representation if you have been injured or if your property has been damaged. Obtaining legal counsel as quickly as possible is recommended.
Maintain your composure and do not admit faults.
Wait for the police on the side of the road or in a safe place.
Examine your own body for injuries before evaluating others.
Avoid settling a disagreement with the other driver. To obtain an official record, alert the police.
Obtain information, including the insurance provider and driver's names.
Take pictures of the accident scene, the road, your injuries, the other vehicle, your motorcycle, and any other pertinent information.
Immediately after an accident, hospital care should be sought.
Create a file containing documents and information related to an accident.
Consult a California motorcycle accident lawyer with experience.
Fatal Motorcycle Accident Statistics
In 2020, according to the National Safety Council, motorcycle accidents accounted for 14% of all road fatalities, 18% of occupant fatalities, and 4% of all occupant injuries. Based on the Centers for Disease Control and Prevention, motorcycle fatalities in the United States exceeded 5,500 in 2020. In addition, over 180,000 motorcycle-related injuries were treated in emergency departments.
Between 2019 and 2020, there were 11% more fatalities per 100,000,000 km of motorcycle travel. In addition, deaths increased by 10% over the past decade, while mortality rates rose by 20%. Recently, the death rate increased to 5,579 per 100,000,000 kilometers.
California expects to register 785 thousand motorcycles by 2020. With approximately 500 casualties per year, it was one of the two states with the highest number of motorcycle fatalities.