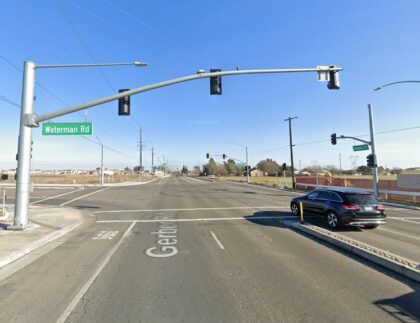 A 39-year-old female pedestrian, identified as Melina A., was killed after she was struck and killed by a vehicle near Vineyard in Southeast Sacramento County Friday evening, May 19, 2023.
According to the California Highway Patrol, the fatal collision occurred shortly after 10:30 p.m. at Gerber Road and Waterman Road.
Preliminary investigation revealed that the 23-year-old male driver of the white Prius was moving between 45 and 50 miles per hour east on Gerber Road. As he passed the intersection of Waterman Road on a green light, the female pedestrian reportedly ran directly in front of the car.
The woman was thrown about 20 inches to the east before stopping in an embankment, three inches off the roadway.
The incident was captured by a Tesla heading in a similar direction as the Prius. The video showed the pedestrian running south across the westbound lanes of Gerber Road and over the median. She then went into the eastbound lane where the Prius had struck her.
The male driver from Sacramento stayed on the scene until the CHP arrived.
Authorities claimed that neither alcohol nor drugs contributed to the accident. The cause of the crash is still under investigation.

Trustworthy Pedestrian Accident Lawyers in Sacramento County
In California, pedestrians offer the same legal protection to pedestrians as motorists, passengers, and cyclists. Pedestrians involved in accidents who are hurt or killed may be able to sue the at-fault driver.
Our knowledgeable lawyers will examine your case, counsel you on the following steps, and evaluate the factors affecting the settlement amount.
Our Sacramento County pedestrian accident lawyers at Arash Law, led by Arash Khorsandi, Esq., have extensive experience and knowledge in advocating for pedestrian accident victims. Our firm has recovered over $400 million in compensation for our clients.
Please call (888) 488-1391 or complete our "Do I Have a Case?" form to schedule a free consultation.
What to Do After a Pedestrian Accident
Staying calm after losing a loved one in a pedestrian accident can be difficult. However, remember that your behavior and words after an accident can significantly impact the outcome of your claim against the responsible party. To handle the aftermath of a pedestrian accident, follow these steps:
Report the accident to the appropriate authorities, and request a copy of the report.
Document pertinent information regarding the involved vehicle, the accident scene, injuries, and property damage.
Get essential details from the driver, including their license, insurance card, and license plate.
Gather the names and contact information of potential witnesses.
Keep a journal to record all associated expenses.
Before speaking with an insurance adjuster or accepting a settlement offer, it is best to get legal advice from a reputable firm.
Avoid posting about the accident or the circumstances leading to it on social media.
Call (888) 488-1391 if you need the help of one of our proficient pedestrian accident attorneys.
Fatal Pedestrian Accident Statistics
Severe injuries and fatalities are more likely to occur in collisions involving pedestrians. During collisions, pedestrians are particularly at risk.
There are more pedestrian accidents on American roads, which results in more injuries and fatalities. In recent years, traffic fatalities have been primarily caused by pedestrian accidents.
The GHSA reports that between 2007 and 2016, pedestrian fatalities increased by 27%, while other traffic-related deaths decreased by 14%.
Statistics show that over 88 people pass away every minute. Hospitals provided non-fatal pedestrian injury care for 137,000 patients in 2017. In addition, 5,977 pedestrian deaths occurred in the US in 2017.
A recent study found California has a higher pedestrian fatalities and injuries rate than other states. In 2020, there were 6,514 fatalities and 55,000 injuries among pedestrians in California.