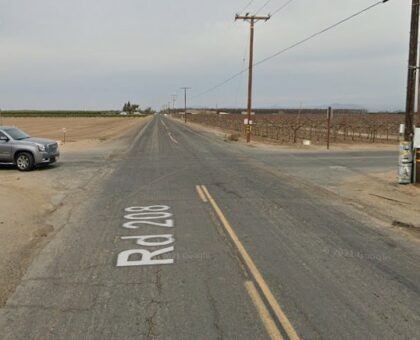 A 41-year-old male was killed, and 65-year-old Michael B. was injured after a two-vehicle collision outside of Porterville on Friday afternoon, May 19, 2023.
According to the California Highway Patrol, they received reports of the collision at approximately 3:57 p.m. at Avenue 184 and Road 208.
The male driver of the gray 2002 Ford F150 pickup was traveling west at an unknown speed on Avenue 184, east of Road 208, as it approached a stop sign.
At the same time, Betzinger from Visalia was driving his white 2019 Ram 1500 pickup, heading north on Road 208, south of Avenue 184. He was said to be traveling between 55 and 60 mph.
The Ford driver reportedly failed to stop at the stop sign and struck the Ram at the intersection.
Both vehicles were severely damaged in this collision, and both drivers were taken by ground ambulance to Sierra View Medical Center. The driver of the Ford later succumbed to his injuries.
The authorities are still investigating the cause of the crash.

Distinguished Car Accident Attorneys in Tulare County
If you were injured in a car accident in California, you have the right to file a claim against the person at fault. Acting quickly and seeking legal counsel is critical when dealing with insurance claims.
Our law firm will gladly assist you in filing a claim for personal injury or wrongful death following a car accident.
Our reliable Tulare County car accident lawyers at Arash Law, led by Arash Khorsandi Esq., have in-depth knowledge and extensive skills in representing car accident victims. We have recovered over $400 million in compensation for California clients.
Call (888) 488-1391 to schedule a free consultation or complete our "Do I Have a Case?" form.
What to Do After a Car Accident
Getting involved in car accidents can be upsetting and scary. A car accident can cause more than just physical harm. There could also be financial and emotional consequences. Knowing what to do following a car accident can assist victims and their loved ones in protecting legal rights and pursuing compensation. Follow these steps to deal with the aftermath of a car accident:
Call the authorities and report the crash. Request a copy of the official report.
Obtain the other driver's name, contact information, insurance information, and driver's license.
Do not admit fault, not even to the police. When talking to law enforcement officers, stick to the necessary details of what happened.
Collect information from eyewitnesses. Get their names and contact details.
Contact your insurance company right away. It is critical to follow the agent's instructions when making the report. Also, before speaking with a reputable attorney, avoid making recorded statements or accepting settlement offers.
Organize a file containing all pertinent paperwork and information regarding the accident.
Don't hesitate to contact one of our experienced attorneys to discuss the accident. You can call us at (888) 488-1391.
Fatal Two-Vehicle Collision Statistics
Every 60 seconds, a car accident occurs in the United States. Traffic accidents are the leading cause of fatalities and serious injuries in the United States, particularly among children aged 2 to 34.
Vehicles are responsible for over 10,000 fatalities in California each year. The Fatality Analysis Reporting System (FARS) reported 35,766 fatal crashes and 38,824 fatalities in 2020.
Since 2013, the state has had 23.5% more fatal car accidents. There were 485,866 car accidents in 2017, with 3,898 fatalities and 276,823 injuries. In 2018, there were nine traffic fatalities for every 100,000 residents in the state.
Even when driving cautiously, drivers run the risk of killing or seriously injuring others. Driving safely and paying attention at all times is critical.