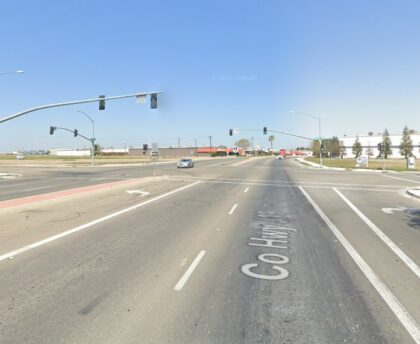 One person suffered injuries after an attempted hit-and-run crash in Visalia on Friday afternoon, May 19, 2023.
According to the Visalia Police Department, authorities responded to Plaza Drive and Hurley Avenue shortly after 2:00 p.m. for a hit-and-run complaint.
When officers arrived, they discovered that a 16-year-old driver was being held by witnesses who had seen him attempt to flee the scene.
Detectives discovered the teenager was driving a stolen car and arrested him. According to officials, the other driver had minor injuries and was treated at the scene.
The teenager was reportedly detained on charges of felony hit-and-run, auto theft, possession of stolen property, and possession of burglary tools.
Further details about the crash have yet to be released. The investigation is ongoing.

Reliable Hit-and-Run Accident Attorneys in Visalia, Tulare County
Hit-and-run accident victims in California may file a lawsuit or insurance claim. Contact our renowned California hit-and-run accident attorneys without delay if you or a loved one have been injured or killed due to someone else's negligence.
Our firm provides a free consultation, during which one of our Visalia hit-and-run accident attorneys will review your case, outline the following steps, and review the variables that could affect the final settlement amount.
Our attorneys at Arash Law, led by Arash Khorsandi, helped accident victims recover over $500 million in compensation. We can assist you if you have any questions. Call (888) 488-1391 to schedule your free consultation or complete the "Do I Have a Case?" form.
What Should You Do After A Hit-And-Run Accident?
If the at-fault driver fails to stop after the collision, he may be liable for your losses. After a hit-and-run collision, you can strengthen your compensation claim by assisting law enforcement in locating and apprehending the motorist. Follow the instructions below.
After an accident, collecting as much information as feasible is vital. Take note of the vehicle's color, license plate, brand, and model.
Accidents must be immediately reported to the authorities. Obtaining a copy of the accident report from the local police department or the California DMV is essential. It can serve as supporting evidence for your claim.
Collect the names and phone numbers of witnesses.
Notify your insurance company immediately of the collision. Do not accept a settlement offer from an insurance company before consulting with a hit-and-run accident attorney.
Call (888) 488-1391 to discuss the accident with one of our skilled hit-and-run accident attorneys.
Hit-And-Run Accident Statistics
It is illegal to abandon the scene of an accident without assisting the victim or calling the authorities in the United States. Leaving an accident scene and causing an accident are offenses.
In 2015, according to the National Highway Traffic Safety Administration, there were 737,100 hit-and-run incidents in the United States.
Every 43 seconds, a hit-and-run occurs in the United States. In 2016, 2,049 hit-and-run victims were killed.
From 2010 to 2019, 2,948 hit-and-run accidents in California caused 3,056 fatalities. California has one of the highest incidences of this type of accident.