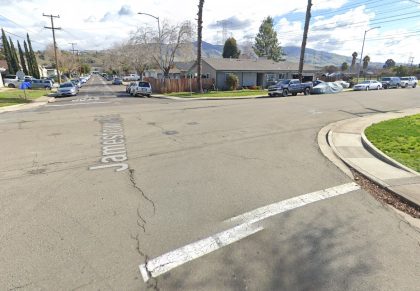 According to the police, a 7-year-old boy died after being fatally struck by a car while riding his bike in Fremont Friday, May 20, 2022.
The fatal collision occurred at around 3:45 p.m near Auto Mall Parkway at Montrose Avenue and Jamestown Road.
According to witnesses, the 7-year-old boy was riding his bike when he was struck by this car. The Nissan finally came to a halt on the corner house's front lawn.
The boy was taken to Stanford Children's Hospital and died due to his injuries. After the collision, the driver came to a halt and cooperated with the police.
The boy was wearing a helmet when it happened.
The collision was captured on a neighbor's surveillance camera, and because the footage was too graphic to show anyone else, the footage was given to the police.
The collision is still being investigated.


Statistics on Bicycle Accident Fatalities
Riding a bicycle down the street can be dangerous and even deadly, especially in a congested area. According to the National Highway Traffic Safety Administration, 840 cyclists were killed in car accidents in 2016, accounting for 2% of all traffic deaths.
Californians use bicycles as a mode of transportation. Bicyclists must follow the same rules as automobile drivers when it comes to avoiding accidents. The rules of the road must be followed at all times, such as stopping at red lights and staying in one lane.
California, unfortunately, does not provide as much support for bicyclists as other states. Bicyclists in California face some of the most dangerous riding conditions in the country.
Bicycle accidents kill the most people in California each year, according to the National Highway Traffic Safety Administration (NHTSA). In California, 455 cyclists were killed between 2016 and 2018.
Bicyclists are frequently involved in car accidents in California. If the driver had given way, checked for bikes before pulling out, or was otherwise distracted while driving, many of these collisions could have been avoided.
A bicycle accident can be avoided by wearing a helmet, inspecting the condition of your tires and brakes, and ensuring that your body is proportional to your bike.
Alameda County Bicycle Accident Lawyers
Families who have lost a loved one in a bicycle accident often find it difficult to cope. A loved one's sudden death can significantly impact a person's mental health.
In a case like this, an experienced wrongful death attorney is essential. The victim's family will then need to hire a lawyer to help them file a wrongful death claim. As a result, they will be compensated for their losses in terms of medical costs, lost wages, and emotional distress.
Arash Law's bicycle accident lawyers in Alameda County can help you get the most money for your injuries, including medical bills, pain and suffering, and other intangible losses.
Accident victims who come to us for help with their injuries are well aware of our reputation as the best legal representation in the industry.
You can count on us to go to any length to ensure that you receive the highest possible compensation. To schedule a free case evaluation with one of our trusted attorneys, call (888) 488-1391 or fill out our online intake form.