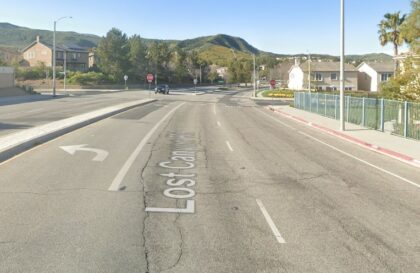 A child was possibly injured after a DUI hit-and-run multi-vehicle crash in Santa Clarita Saturday afternoon, May 20, 2023.
The Santa Clarita Valley Sheriff Station responded to a report of a multi-vehicle crash around 3:30 p.m. west of Lost Canyon Road, in the 27400 block of Sophia Lane, located in Canyon Country.
Deputy Arriaga, the spokeswoman for the SCV Sheriff's Station, claimed that 29-year-old Neri P., from Santa Clarita, was seen running away from his gray sedan after crashing into multiple vehicles while accompanied by a young girl.
The authorities apprehended Portillomunez at 4:10 p.m. He was arrested on suspicion of child endangerment, driving with a suspended license, hit-and-run, and driving under the influence.
According to LASD records online, he was booked at 8:20 p.m. and released the following morning with a citation in place of $25,000 bail. He was due back in court in Valencia in August.
No further details regarding the crash were immediately available.

Competent Los Angeles County DUI Accident Victim Lawyers Specializing in Hit-and-Run Accidents
DUI injuries could leave victims frustrated, unsure, and afraid. Medical bills and lost wages could financially put the victim in a tight spot. Suppose you or someone you know has been injured in a DUI accident. In that case, our California DUI accident victim lawyers specializing in hit-and-run accidents will gladly assist you in filing a claim.
Our skilled Los Angeles County DUI accident victim lawyers at Arash Law, led by Arash Khorsandi, Esq., have extensive knowledge and background in representing DUI accident victims. Our firm has recovered over $400 million in compensation for our clients.
For a free consultation with one of our attorneys, call (888) 488-1391 or fill out our "Do I Have a Case?" form.
What Should You Do After a DUI Accident?
DUI accidents can result in physical injury, emotional distress, and financial hardship. Following such an accident, to effectively deal with its aftermath, you should follow these steps:
Examine your body for injuries and seek medical attention as soon as possible. Check the condition of the other parties involved.
Notify the authorities of the collision. Investigators will determine whether the driver was under the influence of drugs or alcohol.
Obtain the name, contact information, license plate number, and insurance information of the at-fault driver.
It would be beneficial to take photos of the accident scene, including the damaged vehicles and any injuries you or the other victims sustained.
Notify your insurance company of the accident and provide all pertinent information.
Call us at (888) 488-1391 to learn how our drunk driving accident victim attorneys can assist you.
DUI Accident Statistics
According to the National Highway Traffic Safety Administration (NHTSA), approximately 37 people are killed in drunk driving accidents in the United States every day, or one every 39 minutes.
In 2020, there were 11,654 traffic fatalities due to drunk driving, a 14% increase from 2019.
A California DUI Management Information System study found that fatal alcohol-related collisions increased by 5.8% between 2016 and 2017. Drunk drivers endanger themselves and other drivers on the road. Furthermore, drunk drivers waste two billion gallons of fuel each year, harming the environment.
In 2019, there were 10,142 drunk driving fatalities in the United States, with California accounting for 949. It results in a state rate of 2.4 per 100,000 population, compared to 3.1 nationally. Drunk driving was responsible for 28.1% of traffic fatalities in the United States in 2014 and 26.3% of fatalities in California.