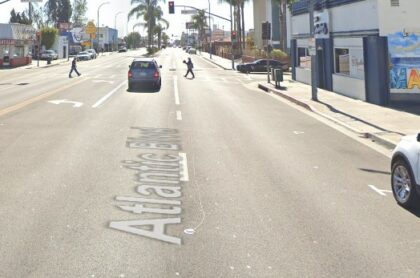 A vehicle struck and killed a male pedestrian following a possible hit-and-run collision in Monterey Park on early Saturday morning, May 20, 2023.
According to Sgt. Arlene Chaidez of the Monterey Park Police Department, authorities discovered a man lying in the center of the northbound lanes after officers responded to Atlantic Boulevard at the Pomona 60 Freeway bridge at about 1:36 a.m.
Officers declared the unresponsive pedestrian dead at the scene after claiming that it appeared that an unknown vehicle had struck him.
There was no other information released about the crash or the victim. Anyone with information on the deadly collision should contact the department's Traffic Bureau at 626-307-1200.

Reliable Monterey Park, Los Angeles County Hit-and-Run Accident Lawyers
Victims of hit-and-run accidents or their families need an expert attorney. One of our lawyers will analyze your case during your free consultation, review the following steps, and review any information that might affect the settlement offer. With the help of an experienced attorney, you can bargain with your insurance provider for a better payment.
Our Los Angeles County hit-and-run accident lawyers at Arash Law, led by Arash Khorsandi, Esq., have years of experience in advocating for accident victims, with compensation granted totaling $400 million so far.
Call us at (888) 488-1391 or fill out our "Do I Have a Case?" to schedule a free consultation with one of our attorneys.
What To Do After A Hit-And-Run Accident
Our law office has assisted numerous victims in California who were left with catastrophic or deadly injuries due to hit-and-run accidents as they dealt with the fallout. We fought to ensure fair compensation. Following a hit-and-run accident, you can use the tips below to understand what to do and, more importantly, what not to do.
After the accident, contact the police and ask for an accident report.
Note every detail, such as the route, the weather, and the car that struck the victim.
Immediately seek medical care if you have been injured.
Gather all witnesses' names, addresses, and phone numbers, as well as those of anyone else who saw the accident.
Journals should be used to track expenses.
Consult a hit-and-run lawyer before speaking with an insurance adjuster or accepting a settlement offer.
Don't talk about the incident or others on social media.
For legal counsel, please speak with our esteemed Oakland hit-and-run accident attorney.
Fatal Hit-And-Run Accident Statistics
In the United States, it is illegal to cause an accident and then flee the scene without rendering assistance or informing authorities. It is illegal to cause an accident and then flee the scene.
According to the National Highway Traffic Safety Administration, there were 737,100 hit-and-run accidents in the United States in 2015.
Based on this data, a hit-and-run occurs every 43 seconds somewhere in the United States. In 2016, 2,049 people were killed in hit-and-run accidents, a record high.
Between 2010 and 2019, 3,056 people were killed in 2,948 hit-and-run accidents in California. California has one of the highest rates of this type of accident when compared to other states.