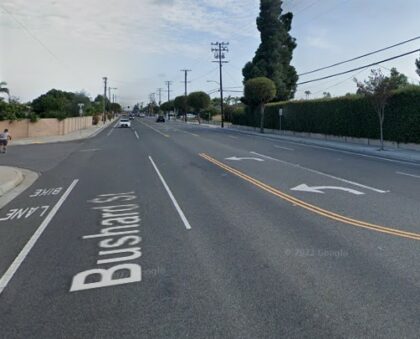 A 34-year-old woman identified as Emily T. was killed and two others were hospitalized following a suspected DUI two-vehicle head-on crash in Fountain Valley late Saturday night, May 20, 2023.
The crash was reported shortly before 11:50 p.m. on Bushard Street near Swift Avenue, according to the Fountain Valley Police Department.
Authorities stated that the driver of a silver Infiniti FX35, a 24-year-old man from Hawaiian Gardens, was driving north on Bushard Street when he ran over the median, entered a southbound traffic lane, and collided with a black 2015 Nissan Sentra driving south on the highway.
The Nissan driver was taken to the hospital in critical condition, while his passenger, a 34-year-old woman, died at the scene. The Infiniti driver was also taken to the hospital with non-life-threatening injuries, according to police.
The identities of both drivers are unknown, and authorities are urging anyone who witnessed the crash to contact them immediately. The investigation is ongoing.

Expert Drunk Driving Accident Victim Lawyers in Fountain Valley, Orange County
In California, DUI accident victims have two options for seeking compensation: the insurance company or the courtroom. We recommend that you consult with our attorneys before doing anything else. Please contact our renowned attorneys if you have suffered severe injuries or a loved one has been killed due to someone else's negligence.
During this free consultation, one of our attorneys will evaluate your case, outline the following steps, and discuss all factors that could influence the settlement offer.
Our expert Fountain Valley drunk driving accident lawyers at Arash Law, led by Arash Khorsandi, Esq., have extensive experience and recognition advocating for accident victims, with awarded compensation totaling $400 million.
If you want a free consultation with our legal team, call us today at (888) 488-1391 or complete our "Do I Have a Case?" form online.
What To Do After A DUI Accident
Injuries and losing loved ones in DUI-related accidents can be unexpected and tragic. In California, victims of drunk drivers are encouraged to seek legal representation.
Claiming insurance can be difficult, but we're here to help. This page contains a simple online form that will assist us in preparing to investigate your claim during your complimentary consultation with our legal professional. This guide can help you protect your rights.
Maintain your focus and calm.
Take a picture of the vehicle's driver's license, insurance information, and license plate.
Request an accident report by calling the police.
Include your injuries, the weather, the road conditions, and the vehicle that hit you in your records.
Gather the names and contact details of potential witnesses.
Before consulting an attorney, do not negotiate with an insurance company or accept a settlement offer.
Avoid discussing accidents and how they occurred on social media.
Contact an experienced DUI accident attorney in California immediately.
Fatal DUI Accident Statistics
According to the National Highway Traffic Safety Administration (NHTSA), in the United States, drivers are considered impaired when their blood alcohol concentration (BAC) reaches or surpasses 0.08 grams per deciliter (g/dL).
Accidents involving a driver with a blood alcohol concentration of 0.08 g/dL or higher that result in a fatality are classified as alcohol-impaired driving accidents, and the resulting fatalities are classified as alcohol-impaired driving fatalities.
In 2020, impaired driving accidents accounted for 30% of all traffic-related fatalities or 11,654 deaths. The number of fatalities increased by 14.3% from 2019 to 2020. In 2020, the ages 21–24 and 25–34 had the highest rates of intoxicated drivers involved in fatal collisions, with motorcyclists having the highest incidence.