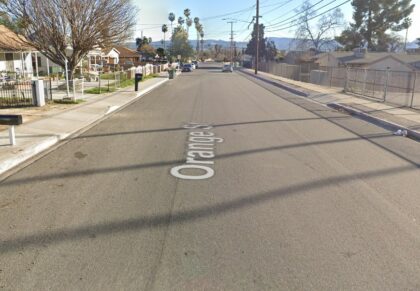 At least one person was hospitalized following a collision between a vehicle and a semi-truck in Highland on early Saturday morning, May 20, 2023.
According to the Highland Police Department, the traffic collision with extrication occurred around 12:45 a.m. on the 8200 block of Orange Street.
Authorities stated that one patient was transported to a nearby hospital by ground ambulance. As of now, it is unknown how many people were injured.
The authorities have not released any additional information about the collision. Anyone who has information is urged to contact the police as soon as possible.
Investigations into the collision are still ongoing.

Big Rig Accident Lawyers in Highland, San Bernardino County
Victims of truck accidents in California can sue for financial compensation. Please contact us if you have questions about filing an insurance claim. You may also wish for one of our skilled attorneys to negotiate a settlement on your behalf.
Our attorneys will review your case and explain the next steps and the variables that may affect the settlement offer amount.
Our trusted San Bernardino County truck accident attorneys at Arash Law, led by Arash Khorsandi, Esq., have extensive experience and accolades advocating for accident victims, with awarded compensation totaling $400 million.
Call (888) 488-1391 now or click "Do I Have a Case?" on our website to set up a free consultation with one of our attorneys.
What To Do After A Big Rig Accident
Truck-related accidents can be fatal or dangerous. Your rights, well-being, and safety must prevail. Follow these steps after a truck collision to ensure safety and proper handling of the situation:
Obtain medical care immediately. The underlying damage can be identified and treated, even if it is not immediately apparent.
Accidents involving tractor-trailers and other large vehicles must be reported immediately. Police reports must be submitted and completed.
Always tell the truth when dealing with the law or an insurance company, and never make assumptions. It is wise to consult an attorney to accept a settlement offer without consulting an attorney.
Even if the victim is not guilty, the insurance company may refuse to pay if the victim apologizes. Avoid such practices.
Authorities should have access to the full report upon request. For your convenience, a contact form is also included on this page. Without it, we cannot consider your claim.
You will receive their undivided attention during your free consultation with a reputable California truck accident attorney.
Big Rig Accident Statistics
Truck drivers and passengers are more likely to sustain injuries in an accident than the occupants of smaller vehicles. In incidents involving smaller vehicles, life-threatening injuries are statistically more likely to occur. Large-vehicle collisions, such as tractor-trailer collisions, can be catastrophic.
The National Highway Traffic Safety Administration (NHTSA) projected 4,965 truck-related fatalities in 2020. Five thousand thirty-two people perished in 2019. In 2020, the total number decreased by 5%. 71% of fatal auto incidents in the United States involve trucks.
In 2020, 8.9% of fatal collisions in the United States involved large vehicles. At least 90 individuals were killed in California truck-car collisions in 2015. Additionally, at least 50 truck-related deaths occurred in Texas and Florida in one year.