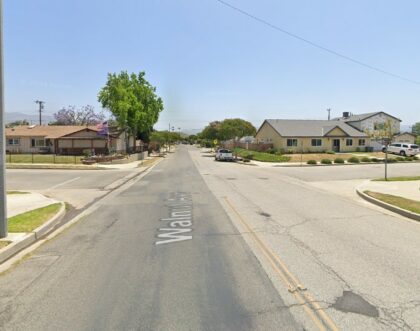 Two juveniles suffered severe injuries while riding an e-bike following a collision with a vehicle in Simi Valley on Saturday morning, May 20, 2023.
The collision was reported shortly after 9:30 a.m. near Walnut Street and Galveston Avenue, according to the Simi Valley Police Department. The intersection is located in a residential area.
The teens were hit by a car when they didn't stop for the stop sign at Walnut before entering the intersection after riding an e-bike without helmets.
Evidence and witness statements indicated that the car driven by a man with a woman passenger east on Walnut was traveling at or below the speed limit. The two people were not hurt.
The injuries sustained by the teens were regarded as serious but not life-threatening. One was transported to Los Robles Regional Medical Center, while the other was to Northridge Hospital Medical Center.
Residents under 18 years old are required by law to wear a helmet when riding a bicycle or electric bike, including as a passenger.
There was no additional information about the crash provided by the officials. Anyone who witnessed or has information about the crash should contact traffic officer Brett Suliga at 805-583-6180.

Reliable Bicycle Accident Lawyers in Simi Valley, Ventura County
In a bicycle accident that results in injuries, submitting a claim for damages is possible, and having legal representation is essential. By filing a personal injury case, the injured person can seek financial compensation for their pain and suffering.
In such cases, it is advisable to seek the advice of a lawyer who can help make necessary changes to insurance and legal papers.
You can rely on our most reliable Simi Valley bicycle accident lawyers at Arash Law, under the direction of Arash Khorsandi, Esq., to effectively represent you in these court proceedings. Our firm has recovered more than $500 million for California clients.
If you want to speak with one of our lawyers, please call (888) 488-1391 or fill out the "Do I Have a Case?" form.
What To Do After Bicycle Accident
Accidents involving bicycles can be highly distressing, resulting in physical injury, emotional tension, and financial burdens. Understanding the steps after a bicycle accident is crucial for ensuring personal safety, protecting legal rights, and expediting recovery. This exhaustive guide outlines crucial steps after a bicycle accident, offering valuable assistance in navigating the aftermath of such occurrences.
Check for injuries to yourself and others; summon medical assistance if you or anyone else has been injured.
Remove your bicycle from traffic and relocate it to a safe area if feasible.
Contact the government: Report the accident to the police or local authorities by calling them.
Exchange information: With the other party involved in the accident, exchange contact and insurance information, including their name, phone number, and insurance information.
Photograph the scene: Take photographs of the accident, including any damage to your bicycle or the other vehicle and any injuries sustained.
You should obtain their contact information if witnesses witnessed the accident.
Notify your insurer of the following: Notify your insurance company as soon as possible of the accident.
If you have been injured, consider contacting counsel for assistance with your claim.
Bicycle Accident Statistics
Since 2010, there has been an alarming increase in fatalities and grievous injuries on California roads. Since 2010, vulnerable road users, such as pedestrians and bicyclists, have experienced a substantial increase in annual fatalities and severe injuries, with pedestrian incidents increasing by nearly 50 percent and bicyclist deaths increased by over 60 percent.
Moreover, fatalities and severe injuries caused by impaired driving have increased by 35%. The Do I Have a Case? (OTS) has prioritized road safety education and prevention programs in response to these alarming trends.
In 2021 alone, the OTS allocated $93.7 million in federal funding to support 415 traffic safety grants, focusing on prioritizing initiatives and infrastructure improvements that create safer conditions for pedestrians and bicyclists.