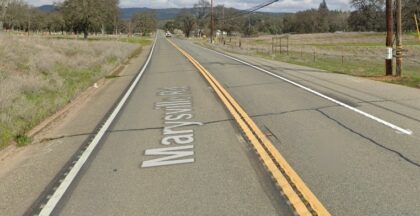 Two riders, a 62-year-old identified as Arthur S. and 51-year-old Michael M., suffered severe injuries after a collision between two motorcycles in Camptonville, Yuba County, on Saturday morning, May 20, 2023.
According to the California Highway Patrol, the crash occurred around 10:30 a.m. on Marysville Road near Old Toll Road in the Camptonville neighborhood.
Authorities stated that two men were reportedly riding their street-legal dirt motorcycles along Marysville Road. Officials said the 51-year-old rider had slowed to pull onto the edge of the road when the other rider rear-ended him, ejecting both men from their motorcycles and onto the street.
The CHP reported that the 51-year-old rider had a suspected fractured collarbone, while the other rider was airlifted to the hospital with multiple fractures, head trauma, and internal injuries.
Both riders reportedly wore helmets, and there are no suspicions of drinking or drug use in this collision.
The investigation is ongoing.

Motorcycle Accident Lawyers in Yuba County
If you are a motorcyclist injured in California and believe you have a legal case, you must consult with an attorney as soon as possible. Our team of attorneys is available to answer your queries and help you determine whether or not you have a valid compensation claim.
Regardless of who was at fault, all parties involved in a traffic accident should be investigated to determine who should be held accountable. Victims may petition for personal injury or wrongful death to seek monetary compensation.
You can rely on our most trusted Yuba County motorcycle accident lawyers at Arash Law, under the direction of Arash Khorsandi, Esq., to effectively represent you in these court proceedings.
Our firm has recovered more than $400 million for California clients.
If you want to speak with one of our lawyers, please call (888) 488-1391 or fill out the "Do I Have a Case?" form.
What To Do After A Motorcycle Accident
Motorcycle accidents can be traumatic for the motorist and their loved ones. They can cause severe injuries, financial burdens, and psychological trauma. Knowing what to do following a motorcycle accident can help safeguard your rights and ensure you receive the medical care and compensation you deserve.
Maintain composure and ensure safety: Examine yourself and others for injuries, and if possible, move to a safe location.
Dial 911 to report the accident and, if necessary, request emergency services.
Exchange information: Obtain the names, contact information, and insurance information of the other driver(s) and witnesses involved in the accident.
Even if you believe you were partially responsible for the collision, you should not acknowledge fault at the scene or to insurance adjusters later.
Even if you feel fine, it is essential to have a doctor examine you to ensure no hidden injuries.
Report the mishap: Notify your insurance provider immediately and provide all pertinent details.
Consult with a lawyer: Consult with a motorcycle accident attorney to discover your legal options and safeguard your rights.
Motorcycle Accident Statistics
According to the National Safety Council, motorcyclists will account for a disproportionate share of road fatalities, occupant deaths, and occupant injuries in 2020. Helmets could have prevented some of these fatalities.
Furthermore, transportation-related fatalities increased by 23% per 100,000,000 kilometers traveled in 2020 compared to 2019.
In California, motorcyclists are disproportionately represented among road fatalities, with only 6% attributable to irresponsible driving. Despite the speed with which motorcycles navigate roadways, research indicates that returning to motorcycling after an accident is more complicated than returning to operating a car.