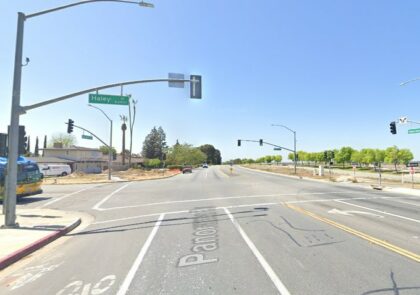 A male motorcyclist sustained critical injuries after a motorcycle vs. vehicle crash in Bakersfield early Sunday morning, May 21, 2023.
According to the Bakersfield Police Department, the crash occurred on the 1500 block of Panorama Drive at around 1:10 a.m.
When authorities arrived at the scene, they discovered the motorcyclist on the road with serious injuries. Officials said he was transported to a hospital in critical condition.
The two passengers in the other involved vehicle were unharmed and were cooperating with the authorities.
Police claimed that speed, alcohol, or drugs did not appear to be factors in the crash. Investigations into the crash are still ongoing.

Competent Motorcycle Accident Lawyers in Bakersfield
Please do not hesitate to contact our personal injury firm if you or a loved one has been hurt in a motorcycle accident. We can assist you with filing a claim, go over your legal options, and respond to your inquiries.
Our esteemed Bakersfield motorcycle accident lawyers at Arash Law, led by Arash Khorsandi Esq., are experienced and knowledgeable in representing accident victims. For our clients, we have already obtained $400 million in compensation.
To arrange a free consultation with one of our attorneys, call (888) 488-1391 or complete the "Do I Have a Case?" form.
What to Do After A Motorcycle Accident
Motorcycle accidents can leave you scared and upset. Legal counsel should be sought by anyone who has been hurt or whose property has been damaged. Follow these steps to protect your rights:
Do not admit fault and remain calm.
Inspect your body for injuries. Also, check on other people involved.
Wait for the police in a safe place or along the side of the road.
Do not settle your case with the other driver. Report the collision to the police to obtain an official record.
Gather details like the other driver's name and insurance provider.
Take pictures of everything you think is essential, including the scene, the road, your injuries, the other car, and your motorcycle.
Seek medical attention immediately.
Keep a file with all of the accident-related paperwork and information.
Consult a knowledgeable California motorcycle accident attorney about your accident.
Motorcycle Accident Statistics
Motorcycle crashes caused 14% of traffic fatalities, 18% of occupant fatalities, and 4% of occupant injuries in 2020. In the United States, over 5,500 motorcycle fatalities were reported in 2020, according to the Centers for Disease Control and Prevention. Additionally, more than 180,000 motorcycle accidents resulted in injuries that required treatment in ERs.
There were 11% more fatalities in the 100,000,000 kilometers of motorcycle travel between 2019 and 2020. Additionally, 10% more people have passed away in the last ten years, increasing the mortality rate by 20%. Recently, the death rate rose to 5,579 per 100,000,000 kilometers.
By 2020, California expects to have registered about 785,000 motorcycles. With about 500 per year, it was one of the two states with the highest number of motorcycle fatalities.