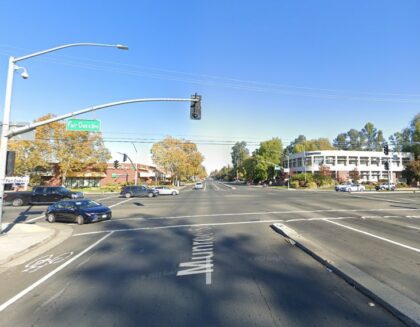 Three people have been injured after a DUI single-vehicle rollover crash in Victorville early Sunday morning, May 21, 2023.
According to the San Bernardino County Sheriff's Department, the accident occurred shortly before 1:00 a.m. between Topaz Avenue and Eagle Ranch Park Way.
The red Mazda four-door sedan lost control and rolled multiple times before it stopped in the desert and off the road on its roof. Initial reports indicated that the driver and two passengers were inside the vehicle.
The two passengers sustained injuries and were transported to a hospital. Updates regarding the condition of the patients were not immediately available.
The driver had minor injuries from the crash and has been arrested and booked for felony DUI.
As they investigated the accident, the authorities placed a hard road closure along Bear Valley Road. They reopened the road around noon.

Competent Drunk Driving Accident Victim Lawyers in Victorville
Victims of DUI accidents may experience frustration, uncertainty, and fear. If you suffer injuries in a car accident, the at-fault driver is legally liable for your injuries and losses. The injured party may have a difficult financial situation due to medical costs and lost wages. California law offers protection to those hurt in drunk driving accidents.
Our knowledgeable Victorville drunk driving accident victim attorneys at Arash Law, led by Arash Khorsandi, Esq., have a wealth of experience advocating for DUI accident victims. Our company has recovered compensation totaling more than $400 million for our clients.
Schedule your free consultation with one of our attorneys by calling (888) 488-1391 or completing our "Do I Have a Case?" form.
What to Do After a DUI Accident
Accidents involving alcohol or drugs can lead to physical harm, psychological distress, and financial hardship. You must protect your rights, safety, and health following such accidents. To effectively handle what follows, adhere to these steps:
Inspect your body for injuries, then seek medical care immediately. Examine the state of the other victims.
Report the collision to the authorities. Whether the driver was under the influence of alcohol or drugs will be determined by investigators.
Obtain the at-fault driver's name, address, phone number, license plate number, and insurance information.
Taking pictures of the accident site, including the damaged vehicles and any wounds you or the other victims might have received, would be beneficial.
Inform your insurance provider of the accident and include all pertinent information.
To learn how our attorneys for victims of drunk driving accidents can assist you, call (888) 488-1391.
DUI Accident Statistics
According to the National Highway Traffic Safety Administration (NHTSA), 37 people are killed in drunk driving accidents in the United States every day, or one every 39 minutes. In 2020, there were 11,654 traffic fatalities brought on by drunk driving, a 14% increase from 2019.
According to data from the California DUI Management Information System, fatal accidents involving alcohol rose by 5.8% between 2016 and 2017. Drunk drivers put other road users and themselves in danger.
Additionally, drunk drivers waste 2 billion gallons of fuel annually, harming the environment.
There were 9,49 drunk driving fatalities in California in 2019 and 10,142 in the US. It results in a rate of 2.4 per 100,000 population in the state, compared to 3.1 nationally. In 2014, drunk driving was the cause of 26.3% of fatalities in California and 28.1% of traffic fatalities in the US.