A pedestrian was severely injured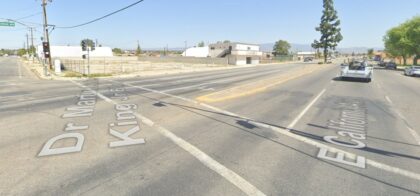 after being struck by a vehicle in Bakersfield on Monday night, May 22, 2023.
According to the Bakersfield Police Department, the incident occurred at approximately 8:46 p.m. at the intersection of East California Avenue and Dr. Martin Luther King Jr. Boulevard.
The report stated that the pedestrian sustained major injuries after being struck by a vehicle, resulting in them being taken to a nearby hospital to treat their injuries.
The vehicle involved showed visible damage on the windshield and front end. The driver of the car remained at the scene, cooperating with authorities.
The investigation is ongoing.

Pedestrian Accident Lawyers in Bakersfield, Kern County
In California, pedestrians involved in accidents have legal rights comparable to those who file claims for personal injury or wrongful death. If you or someone you care about has suffered significant harm due to another party's negligence in a pedestrian accident, it is crucial to act quickly.
In the unfortunate event of a pedestrian accident causing injuries or the loss of a loved one due to someone's negligence, our experienced legal team is prepared to help you navigate the insurance claim filing process.
You can rely on our most trusted Bakersfield pedestrian accident lawyers at Arash Law, under the direction of Arash Khorsandi, Esq., to effectively represent you in these court proceedings.
Our firm has recovered more than $400 million for California clients.
If you want to speak with one of our lawyers, please call (888) 488-1391 or fill out the "Do I Have a Case?" form.
What to Do After a Pedestrian Accident
Pedestrian accidents pose substantial dangers and can result in severe or fatal outcomes. Whether you are a pedestrian who has been hit by a vehicle or a driver involved in an accident with a pedestrian, it is vital to take immediate and necessary actions to protect your physical well-being and legal rights. These measures encompass promptly seeking medical help, informing the appropriate authorities, gathering evidence from the accident scene, and seeking advice from a personal injury lawyer to safeguard your entitlements.
Provide immediate medical attention for others involved in the accident by contacting 911 or emergency services.
Notify the police promptly, providing them with all necessary details about the incident, including location, time, and relevant information.
Collect information by gathering contact details from witnesses and documenting the driver's name, contact information, and insurance details.
Inform the victim's family as soon as possible if you are not a family member, showing compassion and providing support during this challenging time.
Document the accident scene by photographing any contributing factors, such as road conditions, traffic signs, or visible damages.
Seek legal counsel from an experienced attorney specializing in wrongful death cases to guide the legal process, protect the victim's rights, and assist in pursuing compensation for damages on behalf of the victim's family.
Pedestrian Accident Statistics
In 2020, 6,516 pedestrian lives were lost in traffic incidents across the United States, averaging 18 pedestrian fatalities per day or 125 per week. These figures highlight the unfortunate reality that, on average, a pedestrian's life was tragically taken every 81 minutes due to traffic accidents.
Over ten years, from 2011 to 2020, pedestrian fatalities accounted for 17% of all traffic-related deaths. Compared to the previous year, 2020 witnessed a 3.9% increase in pedestrian fatalities, which was a smaller rise compared to the 6.8% increase in overall traffic-related fatalities.
Moreover, in 2020, there were 54,769 recorded pedestrian injuries, indicating a 28% decrease compared to the previous year. These pedestrian injuries constituted 2% of the total injuries from traffic accidents in 2020.