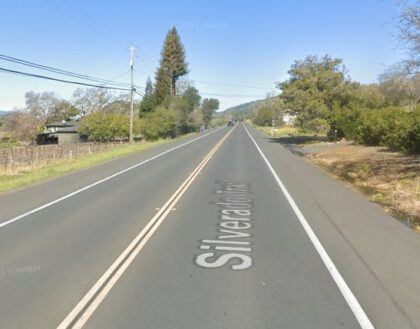 Two people sustained major injuries in a solo-vehicle crash on the Silverado Trail near Yountville on Monday afternoon, May 22, 2023.
According to the California Highway Patrol, the incident happened in the 7100 block of the Silverado Trail north of Yountville Cross Road around 2:26 p.m.
The CHP stated that the victim's vehicle crashed into a driveway pillar and was trapped in the wreckage.
The two were rescued from the wreck and transported to Providence Queen of the Valley Medical Center to have their injuries treated.
It is uncertain whether drugs or alcohol contributed to the incident.

Respected Car Accident Lawyers in Napa County
You may have a case for personal injury or wrongful death if you or a loved one have been injured in a car accident. You can contact us if you have questions about filing an insurance claim or if you would like legal advice before doing so.
Our trusted Napa County car accident lawyers at Arash Law, led by Arash Khorsandi, Esq., have the recognition and vast experience to advocate for accident victims, with awarded compensation totaling $400 million as of yet.
Contact (888) 488-1391 or click "Do I Have a Case?" on our website to schedule a free consultation with one of our lawyers.
What to Do After a Car Accident
Even though car accidents cannot be predicted, they can be avoided. After all, prevention is better than cure. Keep a checklist in your glove compartment to stay calm after an accident. It can advise you on what to avoid and how to preserve your rights. You can refer to the following guidelines:
Maintain calm and ensure that everyone is secure.
Move to a safe location and wait for help.
Call 911 and exchange information with all parties.
Even if the cops arrive, they refuse to accept responsibility.
Seek medical attention and contact your insurance company.
Consult with insurance adjusters before settling or providing recorded statements, but seek legal help first.
Collect and organize all incident documents.
Contact a reputable vehicle accident lawyer in California as soon as possible.
Single-Car Accident Statistics
In 2020, the National Safety Council reported that speeding, drunk driving, and failing to wear safety devices like seatbelts were the leading causes of accidental death and serious injury on American roadways.
In 2020, after three years of reduction, the injury rate related to traffic accidents in the United States increased by 8.3 percent. The number of people injured in automotive accidents rose to 42,338 in 2020 from 39,107 in 2019.
In 2020, car accidents sent more than 4.8 million individuals to the emergency room. It is estimated that around $473.2 billion has been set aside to care for victims of traffic accidents. The cost of lost pay, transportation, medical care, office supplies, and car repairs can quickly add up.