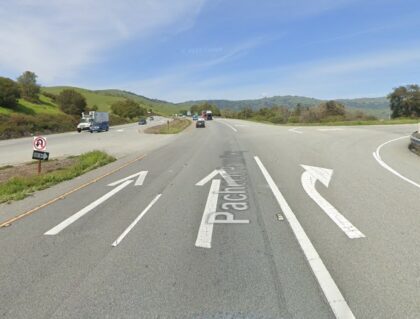 One woman was killed, and three others were injured after a two-vehicle collision west of Dinosaur Point Road, near Hollister, Monday night, May 22, 2023.
CHP Hollister-Gilroy said the crash occurred at 9:40 p.m. along Highway 152 and Pacheco Pass Highway.
The San Mateo female driver of the 2008 Mazda 3 was in the center lane while traveling at an unknown speed west on Highway 152 when the vehicle reportedly veered to the left across the left-hand lane. The Mazda then headed through a right curve in the roadway.
After an unknown amount of time had passed, a 2008 Mercury traveled in the left lane at an unknown speed and collided with the Mazda.
The Mazda driver succumbed to her injuries and was pronounced dead. Her passenger, a 10-year-old San Mateo boy, suffered moderate injuries and was transported to a local hospital for treatment.
The driver of the 2008 Mercury suffered minor injuries but was not taken to the hospital. Additionally, another occupant of the Mercury, an 82-year-old female from Salinas, suffered moderate injuries and is receiving medical attention at a nearby hospital.
The authorities are still investigating the crash.

Esteemed Car Accident Lawyers in San Benito County
In California, if you were hurt in a car accident, you have the right to sue the person at fault. Taking quick action and seeking legal counsel are crucial when handling insurance claims.
If you need assistance filing a claim for personal injury or wrongful death after a car accident, our law firm will gladly assist you.
You can trust that our notable San Benito County car accident lawyers at Arash Law, led by Arash Khorsandi Esq., will protect your rights throughout the legal process. You can rely on their knowledge and dedication. Over $400 million in compensation has been recovered by our firm for California clients.
Call (888) 488-1391 to set up a free consultation, or fill out our "Do I Have a Case?" form.
What to Do After a Car Accident
Automobile accidents can be upsetting and challenging to handle. A car accident could result in more than just physical injuries. There may also be financial and emotional repercussions. Knowing what to do after a car accident can help victims protect their legal rights and pursue compensation. To handle a car accident's aftermath, follow these steps:
Report the collision to the authorities. Request for a copy of the official report.
Get the other driver's name, contact information, insurance information, and driver's license.
Obtain information from eyewitnesses to the event. Make sure to note their names and contact details.
Contact your insurance company immediately. When submitting the report, adhering carefully to the agent's instructions is crucial. Also, avoid making recorded statements or accepting settlement offers before talking to a reliable attorney.
Please talk about the accident with one of our knowledgeable attorneys. Call us at (888) 488-1391.
Fatal Two-Vehicle Collision Statistics
In the US, a car accident occurs every 60 seconds. Traffic accidents are the leading cause of fatalities and severe injuries in the United States, particularly for those between the ages of 2 and 34.
In California, vehicles are to blame for more than 10,000 yearly fatalities. In 2020, 35,766 fatal crashes and 38,824 fatalities were reported by the Fatality Analysis Reporting System (FARS).
Since 2013, the state has had 23.5% more fatal car accidents. In 2017, there were 485,866 car accidents, resulting in 3,898 fatalities and 276,823 injuries. In 2018, the state had nine traffic fatalities per 100,000 residents.
Drivers still run the risk of killing or seriously hurting others, even when driving cautiously. That said, driving safely and paying attention at all times is essential.