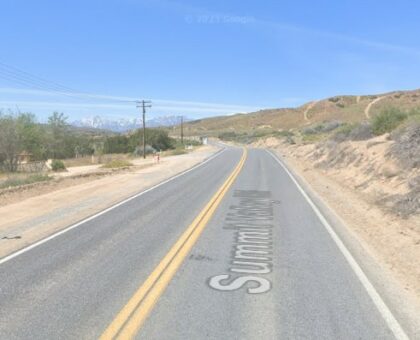 At least one person was killed following a two-vehicle crash in Hesperia on Monday night, May 22, 2023.
According to the San Bernardino County Fire Department, at around 6:47 p.m., authorities responded to the scene of a collision involving white and silver SUVs on Summit Valley Road between Agate and Telephone Canyon roads.
Officials did not release any additional information about the crash, including the identification of the person who died from his injuries. The condition of those involved in the crash is still unknown.
No more information is available. Anyone with information is asked to call the authorities immediately.

Proficient Car Accident Lawyers in Hesperia, San Bernardino County
If you were injured in a car accident in California, you could file a claim or lawsuit against the at-fault party. Acting promptly and consulting with an attorney is essential when dealing with insurance claims.
If you require assistance filing a claim for personal injury or wrongful death resulting from a car accident, our law firm will eagerly assist you.
You can trust that our distinguished San Bernardino County car accident attorneys at Arash Law, led by Arash Khorsandi Esq., are dedicated to safeguarding your rights during court proceedings.
You can trust their expertise and commitment. Our attorneys have recovered compensation for California clients totaling over $400 million.
To schedule a free consultation, please call (888) 488-1391 or fill out our "Do I Have a Case?" form.
What To Do After A Car Accident
Car accidents can be upsetting and challenging to handle. A car collision might have other consequences besides injuries. There can also be financial and emotional repercussions.
Following an automobile accident, plaintiffs can protect their legal rights and pursue compensation by following the correct steps. To effectively handle the aftermath of an automobile accident, take the following actions:
The accident should be reported to the police. Ask the relevant authorities for an official copy of the report.
Ensure you obtain the other motorist's information, including their name, contact information, insurance information, and driver's license.
Obtain information from event witnesses. Ensure that their names and contact information are recorded.
Contact your insurance provider as soon as possible. When submitting a report, following the agent's instructions is essential.
Legal counsel would be prudent. Please consult one of our seasoned attorneys about the accident. Contact us at (888) 488-1391.
Fatal Two-Vehicle Collision Statistics
Automobile collisions occur every 60 seconds, and traffic accidents are one of the leading causes of fatalities and severe injuries in the United States, particularly among those aged 2 to 34. It causes 2 million deaths and injuries annually.
In California, vehicles are responsible for over 10,000 fatalities annually. The Fatality Analysis Reporting System (FARS) documented 38,824 fatalities and 35,776 fatal accidents in 2020.
Since 2013, the state has had 23.5% more fatal auto accidents. In 2017, 485,866 car accidents resulted in 3,898 fatalities and 276,822 injuries. In 2018, there were nine traffic-related fatalities per 100,000 residents.
Even when driving cautiously, motorists risk severe injury or death. It is crucial to adhere to safe driving practices and maintain vigilance while traveling.