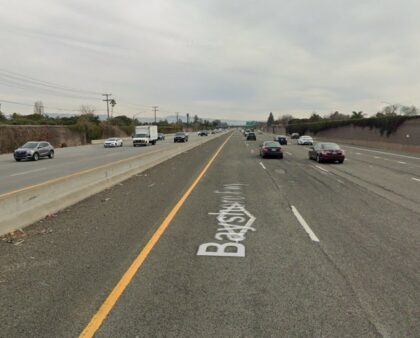 Three people were killed, and five others were injured after a major multi-vehicle collision in Sunnyvale early Monday morning, May 22, 2023.
According to the San Jose CHP, a pick-up truck lost control at around 12:30 a.m. between Lawrence Expressway and North Fair Oaks Avenue. This accident was the first crash that led to a series of collisions overnight.
Six vehicles were involved in the collision on the northbound side. There is an additional car on the southbound side.
The drivers and passengers exited their cars and stood on or near the road. They pulled over within the lanes, got out, and checked on the other drivers to see if anyone was hurt and to assess the damage.
Two people were thrown over the center divider by subsequent collisions. They were then struck and killed by a southbound vehicle. Three people were pronounced dead at the scene. All three adult males were considered pedestrians by the CHP since they exited their vehicles.
Five other people were transported to the hospital. Crews were clearing the scene throughout the majority of the morning.
Authorities claimed that there was no indication that alcohol was a contributing factor to the series of accidents. Investigations into the major crash are still ongoing.
After being shut down for more than eight hours, the northbound and southbound lanes of Highway 101 are now open again.

Dependable Car Accident Lawyers in Sunnyvale
People often have difficulty recovering from serious car accidents. Long-term injuries can result in tens of thousands of dollars in medical bills.
Most insurance companies want to give you as little money as possible. Accepting an insurance company's settlement offer may result in unfair compensation.
Our experienced Sunnyvale car accident lawyers can help you negotiate with the insurance company. In addition, our attorneys will provide evidence of the insured driver's negligence.
Our attorneys at Arash Law, led by Arash Khorsandi, Esq., have dedicated their careers and years of experience to representing car accident victims. Call (888) 488-1391 or fill out our "Do I Have a Case?" form to schedule your free consultation and learn how we can help you.
What Should You Do After A Multi-Vehicle Collision?
Being in a car accident is a terrifying experience that may leave you unsure of what to do next. However, it is critical to protect the legal rights and seek compensation for the injuries and losses of the car accident victims. Follow these steps to deal with the aftermath of a car accident:
Examine your body for injuries and assess the health of the others involved.
Move disabled vehicles to the side of the road if possible. Find a secure location to wait for the authorities.
Report the accident to the authorities. Law enforcement officers will document the accident and create an official report.
Obtain information about the other driver(s) involved. Take pictures of vehicles, license plates, injuries, damages, and other relevant information.
Do not admit fault. When recounting the events of the collision, stick to the facts.
Seek medical attention as soon as possible. Contact your healthcare provider or go to the nearest hospital. Internal injuries that do not manifest symptoms can be detected using tests and scans.
Notify your insurance provider. Most insurance companies have reporting deadlines for accidents. Follow the agent's instructions when making the report.
Make contact with the claims adjuster. Before recording statements or accepting settlement offers, consult an attorney.
Organize accident documents such as the police report, medical bills, information about the other driver, and injury treatment plans.
Get in touch with our competent California car accident lawyers. Call us at (888) 488-1391.
Fatal Multi-Vehicle Collision Statistics
Car accidents are the leading cause of unintentional deaths and injuries in the United States. Furthermore, car accidents annually result in over 1.3 million deaths.
According to National Safety Council statistics, after an 8.3% increase in 2020, deaths increased by 11% in 2021. In 2021, 46,980 people died in car accidents, from 42,338 in 2020 and 39,107 in 2019.
In California, 3,847 people were killed in car accidents in 2020. Nearly half of all fatalities involved multiple vehicles (1.587 or 41% of all crashes). Single-vehicle collisions caused the majority of fatalities (59%).