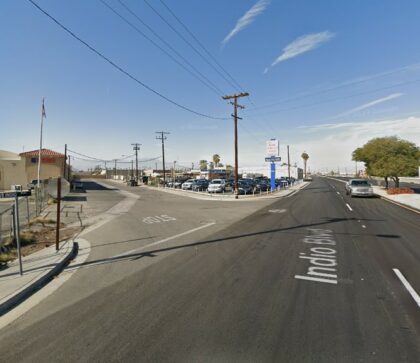 An unidentified pedestrian died after being struck by a train in Indio early Tuesday evening, May 23, 2023.
According to the Riverside County Fire Department, the crash was reported just before 5:30 p.m. near Indio Boulevard and Fir Avenue, next to Interstate 10.
Authorities stated that the deceased's identity was withheld pending notification of next of kin, and no additional information about the crash or the victim was released.
The investigation is ongoing, and anyone with information is urged to contact authorities as soon as possible.

Train Accident Lawyers in Indio, Riverside County
When dealing with the aftermath of a train catastrophe that resulted in the death of a family member, it is crucial to retain legal counsel. Suppose you or a family member intend to file an insurance claim after such an accident or unlawful death. In that case, our seasoned law firm is prepared to offer a free consultation and serve as an impartial mediator.
During this free consultation, our attorneys will evaluate your case, discuss the necessary next steps, and consider the various variables that may impact the eventual settlement offer.
You can rely on our most trusted Indio train accident lawyers at Arash Law, under the direction of Arash Khorsandi, Esq., to effectively represent you in these court proceedings.
Our firm has recovered more than $400 million for California clients.
If you want to speak with one of our lawyers, please call (888) 488-1391 or fill out the "Do I Have a Case?" form.
What To Do After A Train Accident
The death of a loved one in a train accident can profoundly affect individuals and communities. When such an event occurs, the person affected must be aware of the necessary safety measures and facilitate a more effective recovery process. By adhering to the following guidelines, one can confidently navigate the aftermath of a train accident:
Contact emergency services immediately: Call 911 or the appropriate number to report and request assistance.
Seek prompt medical care: Prioritize the well-being of those involved by seeking prompt medical attention for any injuries sustained in the train accident.
Provide accurate information to authorities and insurers: When communicating with the police and insurance companies, do not make assumptions or speculations about the incident.
It is imperative not to assume responsibility for the accident, as determining fault requires a comprehensive investigation by the authorities.
Consult with knowledgeable train accident attorneys: If you require legal assistance, seek the counsel of experienced train accident attorneys who can help you maximize your insurance coverage and support your case.
Use caution when sharing information with the opposing party's insurance company: Limit the information disclosed to the opposing insurance company to what is necessary and pertinent to your case.
Refrain from making recorded statements or accepting early settlement offers. Before making any statements or accepting payment offers from insurance companies, consult an attorney to ensure you make informed decisions.
Fatal Train Accident Statistics
According to the National Safety Council, railroad-related fatalities increased significantly in 2021. There were 893 deaths, a 20% increase over the 744 deaths in 2020 and the most significant fatalities since 2007. Non-fatal injuries also increased, with 5,781 reported instances in 2021, a 4% increase over the previous year's 5,544 cases.
These figures show trends in railroad crossings and other accident fatalities. From 2020 to 2021, deaths at highway-rail crossings climbed by 21%, while deaths in other accidents increased by 20%.
Trespassers accounted for 94% of deaths in the latter category, accounting for 617 fatalities. Improving safety at railroad crossings and raising awareness about trespassing are critical to reducing these terrible accidents.
The report also provides information on train fatalities and injuries. While the number of personnel killed on the job stayed the same in 2021, with eleven reported deaths, passenger fatalities increased. Six train passengers were killed, compared to two in 2020. These figures highlight the importance of comprehensive safety precautions for train workers and passengers.