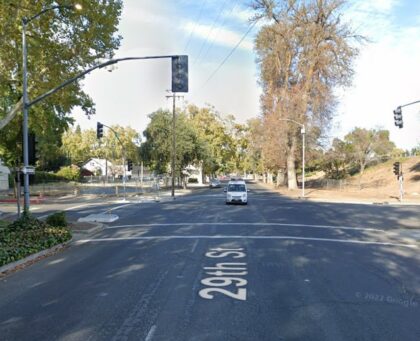 An unidentified pedestrian was hospitalized after being struck by a vehicle in Midtown, Sacramento, on Tuesday evening, May 23, 2023.
According to the Sacramento Police Department, the collision occurred shortly before 9:20 p.m. in the area of F and 29th streets, where the vehicle struck a fence and then the pedestrian.
Authorities stated that the victim's condition is unknown, and no additional information has been released regarding the victim's identity or the crash.
The investigation is ongoing; anyone with information is urged to contact police immediately.

Notable Pedestrian Accident Lawyers in Sacramento
In California, pedestrians have the same legal privileges as motorists, passengers, and cyclists. You might be eligible for compensation if a negligent driver caused an accident and you suffered injuries as a pedestrian.
Our seasoned attorneys will evaluate your case, provide guidance on how to proceed, and consider all factors that could affect the settlement offer. During the free consultation, this will be discussed.
Our notable Sacramento pedestrian accident lawyers at Arash Law, led by Arash Khorsandi, Esq., have well-established careers and accolades in advocating for accident victims. Our clients have been awarded compensation totaling $400 million.
Set up a free consultation with one of our lawyers by calling (888) 488-1391 or completing our "Do I Have a Case?" form.
What To Do After A Pedestrian Accident
It can be challenging to think correctly after an accident. Conversely, what you do and say at the accident scene will significantly impact your claim outcome. The following suggestions may help you avoid a reduction in the value of your personal injury claim:
After the collision, call the police and ensure that an officer completes an accident report.
Take photographs of your injuries, the accident site, property damage, the weather, road conditions, and the vehicle that struck you.
Photograph the license, insurance card, and license plate of the at-fault driver.
Collect the names and contact information of all witnesses, including eyewitnesses.
Consult a physician or other healthcare professional immediately and describe all affected areas of your body.
Keep track of your injuries and rehabilitation. Describe how you feel, the care you receive, and any associated costs.
Consult an attorney before accepting an insurance adjuster's settlement offer.
Avoid social media. Please do not make your accident or circumstances public.
Contact a well-known pedestrian accident attorney to discuss your case.
Pedestrian Accident Statistics
Pedestrians are significantly more likely to perish or sustain severe injuries in a collision. Accidents expose them to harm. In recent years, pedestrian fatalities have increased in the United States, where they are most frequently killed or injured in automobile accidents.
According to the Governors Highway Safety Association (GHSA), pedestrian fatalities increased by 27% between 2007 and 2016, while other traffic-related fatalities decreased by 14% during the same period.
In 2017, 5,977 people died while walking in the United States. The latest statistics indicate that 88 individuals are killed every minute. In 2017, hospitals treated 137,000 non-fatal pedestrian injuries.
A recent study found that California pedestrians are more likely to be injured or murdered than others. California pedestrian incidents caused 55,000 injuries and 6,516 fatalities in 2020.