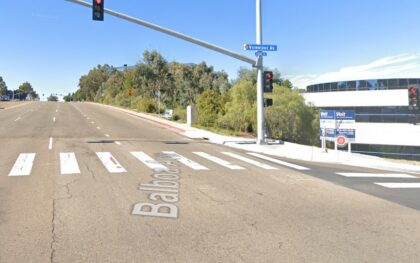 Two people were injured after a bicycle collided with a motorcycle in Kearny Mesa, San Diego, early Tuesday evening, May 23, 2023.
According to the San Diego Police Department, the collision occurred around 5:18 p.m. on Viewridge Avenue and Balboa Avenue when a 57-year-old man was riding an 18-speed road bike southbound.
Authorities reported that the biker was in a marked crosswalk facing a stationary green traffic light when a 61-year-old man was riding eastbound in the right lane of 9400 Balboa Ave. on a black 2003 Harley Davidson motorcycle.
The motorcyclist was passing vehicles on the right shoulder when he approached the intersection of Balboa Avenue and Viewridge Avenue while facing a red traffic light. As the bicyclist crossed the eastbound lanes, the motorcyclist's traffic signal turned green and failed to notice the bicyclist in the crosswalk, causing a broad-side collision.
Officials confirmed that the motorcyclist sustained abrasions to the left side of his body and chin, while the bicyclist suffered an open fracture to his left lower limb, a laceration to his right eyebrow, and multiple abrasions across his body.
There was no suspicion of DUI in this incident. SDPD Traffic Division officers responded to the collision and are investigating it.
Anyone with information about the crash should contact Crime Stoppers at 888-580-8477.

Reliable Bicycle Accident Lawyers in San Diego
In a bicycle accident that results in injuries, it is possible to file a compensation claim, and legal representation is essential. The injured party can seek financial compensation for their anguish and suffering by filing a personal injury lawsuit.
In such situations, it is advisable to consult a lawyer who can help modify insurance and legal documents.
You can rely on our most reliable San Diego bike accident lawyers at Arash Law, under the direction of Arash Khorsandi, Esq., to effectively represent you in these court proceedings. Our firm has recovered more than $400 million for California clients.
If you want to speak with one of our lawyers, please call (888) 488-1391 or fill out the "Do I Have a Case?" form.
What To Do After Bicycle Accident
Bicycle accidents can be highly distressing, resulting in physical injuries, emotional stress, and financial burdens. Understanding the measures to take after a bicycle accident is essential for ensuring personal safety, preserving legal rights, and accelerating recovery. This comprehensive guide outlines crucial steps after a bicycle accident, providing valuable assistance in navigating the aftermath.
Check for injuries to yourself and others; if you or anyone else has been injured, call for medical assistance.
Remove your bicycle from traffic and relocate it to a secure location.
Contact the administration: Call the police or local authorities and report the accident.
Exchange contact and insurance information with the other party involved in the accident, including their name, phone number, and insurance information.
Take pictures of the accident scene, including any damage to your bicycle or the other vehicle and any injuries sustained.
If witnesses witnessed the accident, you should collect their contact information.
Notify your insurer of the details below: Notify your insurance company of the accident as soon as possible.
If you have been injured, you should consider contacting an attorney for help with your claim.
Bicycle Accident Statistics
The National Safety Council reports that bicycle-related fatalities have increased by 16% in 2020 and 44% over the past decade, from 873 in 2011 to 1,260 in 2020. In 2020, motor vehicles caused 806 bicycle fatalities.
California has the most bicycle-related fatalities. In 2017, 11,116 cyclists were injured, and 145 were murdered in California, according to the National Bicycle Safety Foundation.
Constant transportation hazards exist for cyclists. Motor vehicles disregard motorcyclists' rights and approach them hazardously. Accidents and fatalities are possible.
Because they consistently fail to yield the right-of-way and regularly disregard stop signs and red lights. Also contributing to fatal bicycle collisions are driving under the influence and carelessness.