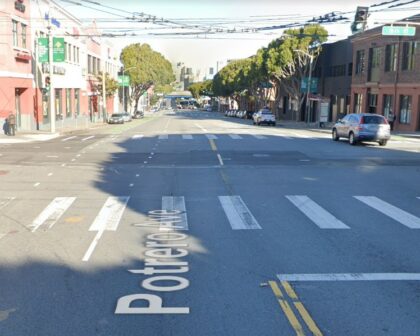 At least one person was killed, and several others were injured after a pursuit led to a two-vehicle crash in San Francisco on Tuesday morning, May 23, 2023.
According to Capt. Jonathan Baxter of the San Francisco Fire Department, the collision at 16th Street and Potrero Avenue around 10:00 a.m. resulted in one death and four injuries.
Witnesses stated that a city paint truck pursued by San Francisco police collided with an SUV before crashing into a bus stop. The truck was stolen, and the driver was arrested.
Officials said five people were transported to hospitals from the crash site alive. It is now unknown whether that man is the victim who died.
No further information has been released about the crash or the victims involved. The investigation is still underway, and anyone with information must contact authorities immediately.

Reckless Accident Victim Lawyers in San Francisco
When an irresponsible driver causes an accident that results in the death or severe injury of victims, their families can file a lawsuit against the negligent driver. If you or a loved one have been injured in a car accident that was not your fault in California, it is imperative to seek legal counsel immediately.
During a free consultation, our expert attorneys will guide the case, recommend a course of action, and discuss the factors influencing the final settlement amount.
You can rely on our most trusted San Francisco reckless driving accident lawyers at Arash Law, under the direction of Arash Khorsandi, Esq., to effectively represent you in these court proceedings. Our firm has recovered more than $400 million for California clients.
If you want to speak with one of our lawyers, please call (888) 488-1391 or fill out the "Do I Have a Case?" form.
What To Do After A Reckless Driving Accident
Car accidents are unpredictable, but people can take precautions to prepare for them. A checklist in the glove compartment can be helpful in knowing what to do after an accident. It can direct significant actions, highlighting things to avoid and outlining rights-protection strategies. You can take the following actions:
Prioritize personal and others' safety by moving to a secure location, if possible, and turning on the hazard lights.
Examining for Injuries: Evaluate oneself and others for injuries and seek medical attention immediately.
Contacting Authorities: Report the accident to the police and provide exact incident details.
Collect relevant information from all parties involved, including names, contact information, license plate numbers, and insurance information.
Documenting the Scene: Take pictures of the accident scene, vehicle damage, and any visible injuries, as these can be useful for insurance claims and legal purposes.
If witnesses are present, obtain their contact information, as their statements may support the case in the future.
Notifying the Insurance Provider Notifying the insurance provider of the accident, providing accurate and exhaustive details.
Consultation with an Attorney: Seek legal counsel from an experienced attorney who specializes in personal injury cases, as they can guide you through the legal process, safeguard your rights, and help you maximize your potential compensation.
Fatal Reckless Accident Statistics
In the United States, irresponsible driving causes numerous accidents and fatalities annually.
The National Highway Traffic Safety Administration (NHTSA) defines irresponsible driving as operating a motor vehicle without regard for others' safety. Determining the exact number of people killed or injured annually due to careless driving is difficult. However, according to AAA statistics, 56% of all traffic accidents between 2003 and 2007 resulted from careless driving.
According to available data, speeding is one of the leading causes of fatal car accidents in the United States. Furthermore, drunk driving remains a pervasive and alarming problem throughout the nation.