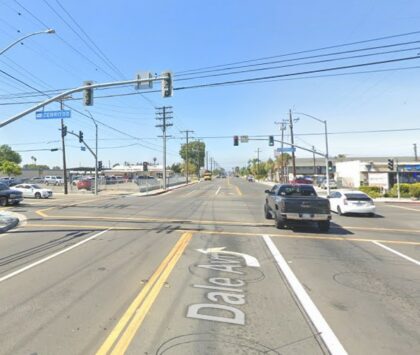 A female pedestrian was killed after a hit-and-run crash in Stanton on Wednesday night, May 24, 2023.
According to the local authorities, the woman was struck at Cerritos and Dale Avenues around 10:20 p.m.
Jeffrey W., a witness at the scene, claimed that as he traveled down Dale Avenue, the lady suddenly ran across the crosswalk and got struck by the vehicle in front of him.
He also stated that the car had a green light and did not believe the pedestrian had the right of way. The collision did not appear to have caused the vehicle significant damage.
The driver fled the scene and sped away without stopping.
No further details regarding the identity of the deceased were immediately available.

Proficient Hit-and-Run Accident Victim Lawyers in Stanton, Orange County
Victims of hit-and-run accidents in California can file an insurance claim or a lawsuit to seek compensation. If you or a loved one has been seriously injured or killed in a hit-and-run accident in California, don't hesitate to contact an experienced attorney.
One of our attorneys will review your case for free, explain what happens next, and go over anything that could influence the settlement offer.
Our trusted Orange County hit-and-run accident lawyers for victims at Arash Law, led by Arash Khorsandi, Esq., boast expertise and accolades in advocating for accident victims. Our firm has recovered compensation totaling $400 million for our clients.
Call (888) 488-1391 or complete our "Do I Have a Case?" form to schedule a free consultation with one of our attorneys.
What to Do After a Hit-and-Run Accident
Victims or their families are entitled to compensation for their injuries and losses even if the driver does not stop. If you assist law enforcement in identifying and apprehending the motorist, you can strengthen your case for compensation in a civil complaint. The following are steps you should take:
Collecting as much information as possible at an accident scene is critical. Take note of the vehicle's license plate, make, model, and color.
Report the accident to the authorities as soon as possible. A copy of the accident report will be available within a few days from the California Department of Motor Vehicles (DMV) or the local police station where the report was filed. You must include this evidence with your claim.
Gather information about potential witnesses, such as their names and contact information.
Private insurance companies must be notified. Do not settle with other insurance companies before consulting with a lawyer about your rights following a hit-and-run.
Contact us at (888) 488-1391 to learn how our experienced hit-and-run accident victim lawyers can help you.
Fatal Hit-and-Run Accident Statistics
In the United States, it is a crime to cause an accident and then flee the scene without rendering aid or informing authorities. It is illegal to cause an accident and then flee the scene.
According to the National Highway Traffic Safety Administration, there were 737,100 hit-and-run accidents in the United States in 2015.
Every 43 seconds, a hit-and-run occurs somewhere in the United States, according to this data. In 2016, a record-high 2,049 people were killed in hit-and-run accidents.
Between 2010 and 2019, 3,056 people were killed in 2,948 hit-and-run accidents in California. California has one of the highest rates of this type of accident compared to other states.