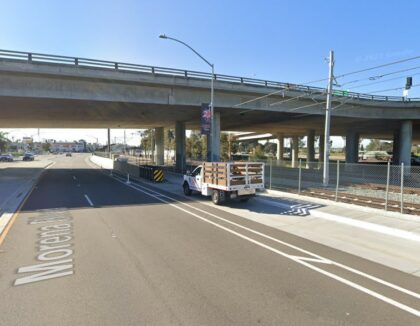 An unidentified woman was fatally struck by a passenger train in Mission Bay, San Diego, on Wednesday afternoon, May 24, 2023.
The San Diego County Sheriff's Department said the incident occurred at 1:30 p.m. at the 2700 block of Morena Boulevard in Bay Park.
According to the report, the northbound coaster train collided with the woman.
The County Medical Examiner's Office will identify the deceased individual and determine the cause of her death.
The investigation is ongoing.

Trusted Train Accident Lawyers in San Diego
At some stage, many people have used public transportation, including the subway. Although public transit, like the metro, is generally reliable and safe, accidents can still occur. While train accidents are less likely to result in injuries or fatalities than other forms of transportation, they can still happen.
If a passenger or their family member is harmed in a train accident, they may be entitled to compensation. Our attorneys will assess your case, provide details about the following steps, and analyze the variables that could influence the ultimate compensation offer.
You can rely on our most trusted San Diego train accident lawyers at Arash Law, under the direction of Arash Khorsandi, Esq., to effectively represent you in these court proceedings. Our firm has recovered more than $400 million for California clients.
If you want to speak with one of our lawyers, please call (888) 488-1391 or fill out the "Do I Have a Case?" form.
What to Do After a Train Accident
Train accidents can have devastating consequences, causing injuries, fatalities, and significant property damage. If you or someone you know has been involved in a train accident, it is important to take the necessary steps to ensure safety and legal protection. Following a step-by-step guide can help you navigate the aftermath of a train accident and pursue any necessary compensation.
Check for injuries and call emergency services if anyone needs medical attention.
Dial 911 or the appropriate emergency number to report the accident and request assistance.
Exchange contact and insurance information with the train operator and other parties involved in the accident.
Take photographs and notes of the accident scene, and record witnesses' names and contact information if possible.
Seek medical attention, even if you feel fine after the accident.
Report the accident to your insurance company and follow their instructions for filing a claim.
Consult an attorney specializing in train accidents to evaluate your legal options and pursue compensation.
Fatal Train Accident Statistics
According to the National Safety Council, 2021 recorded a concerning increase in railroad fatalities, reaching 893 deaths. This figure represents a significant 20% rise compared to the reported 744 deaths in 2020, marking the highest number of railroad fatalities since 2007. Additionally, non-fatal injuries also experienced an upward trend, totaling 5,781 in 2021, reflecting a 4% increase from the reported 5,544 in the previous year.
Among the reported fatalities, the data revealed distinct trends. Fatalities at highway-rail crossings witnessed a notable 21% increase from 2020 to 2021. Similarly, fatalities resulting from other accidents showed a 20% rise. Of particular concern is that trespassers accounted for a significant portion, representing 94% or 617 deaths in these accidents.
Notably, the death toll among workers remained unchanged, with eleven fatalities reported in 2020 and 2021. Furthermore, there was an increase in train passenger deaths, with six fatalities recorded in 2021, compared to the two written in 2020.
Moreover, the National Safety Council's findings indicated that incidents related to the railroad played a substantial role in non-fatal injuries and illnesses. Approximately 1 in 6 of these non-fatal cases were linked to the railroad.
Regarding location, 26% of the total 893 deaths in 2021 occurred at railroad crossings, underscoring the significance of implementing robust safety measures at these critical points. Additionally, 3,216 non-fatal injuries and illnesses were reported in 2021, with 66 resulting from accidents, specifically at highway-rail crossings.