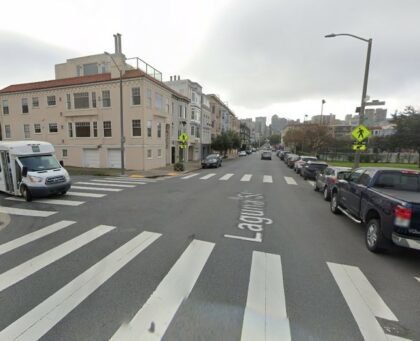 A female pedestrian was seriously injured after being struck by a vehicle in San Francisco on Wednesday afternoon, May 24, 2023.
According to the San Francisco Police Department, the crash occurred at the Laguna and Francisco Streets intersection, in the Marina District, at around 4:36 p.m.
When authorities arrived, they discovered the unidentified woman unconscious on the street. Medics responded and transported the pedestrian to a local hospital, where she is receiving medical care for life-threatening injuries.
The driver who hit the woman stayed at the scene and cooperated with the officers.
The general public was advised to expect delays and to seek alternate routes.
Officers from the SFPD are urging anyone with information about the accident to contact them. No other information was immediately available.

Acclaimed Pedestrian Accident Attorneys in San Francisco
California offers pedestrians the same legal protection as drivers, passengers, and cyclists in a collision. Pedestrians injured or killed in an accident may be able to file a claim against the negligent driver.
Our skilled attorneys will review your case, advise you on the next steps, and assess the factors that can influence the final settlement amount.
Our San Francisco pedestrian accident lawyers at Arash Law, led by Arash Khorsandi, Esq., have extensive experience representing pedestrians injured in accidents. Our clients in California received over $400 million in compensation.
For a free consultation, please fill out our "Do I Have a Case?" form or call (888) 488-1391.
What to Do After a Pedestrian Accident
It can be challenging to remain calm following a pedestrian accident. Remember that your actions and words at the accident scene can significantly impact the outcome of your claim against the at-fault party. To protect the value of your personal injury claim, follow the steps outlined below.
Contact and inform the appropriate authorities about the accident and request a copy of the accident report.
Photograph the involved vehicle, the accident scene, any injuries, and any property damage.
Take pictures of the driver's license plate, insurance card, and driver's license.
It is recommended that potential eyewitnesses' names and contact information be gathered.
Immediate medical attention is advised. All affected areas should be reported to your primary care physician or doctor.
Keep track of your injuries, recovery, and medical expenses in a journal.
It is best to consult a reputable lawyer before speaking with an insurance adjuster or accepting a settlement offer.
Avoid sharing details about your accident or the events that led to it on social media.
If you require the assistance of our pedestrian accident lawyers, please contact us at (888) 488-1391.
Pedestrian Accident Statistics
Pedestrian accidents are more likely to result in fatalities and serious injuries. Pedestrians are particularly vulnerable during collisions.
Pedestrian accidents on American highways are becoming more common, leading to increased injuries and deaths. Pedestrian accidents have been the leading cause of traffic fatalities in recent decades.
According to the GHSA, pedestrian accidents leading to death increased by 27% between 2007 and 2016, while other traffic-related fatalities decreased by 14%.
Every minute, over 88 people die, according to statistics. In 2017, hospitals treated 137,000 non-fatal pedestrian injuries. In addition, 5,977 pedestrian deaths occurred in the US in 2017.
A recent study reported that pedestrians in California are more likely to be injured or killed than pedestrians in other states. California recorded 55,000 pedestrian injuries and 6,514 fatalities in 2020.