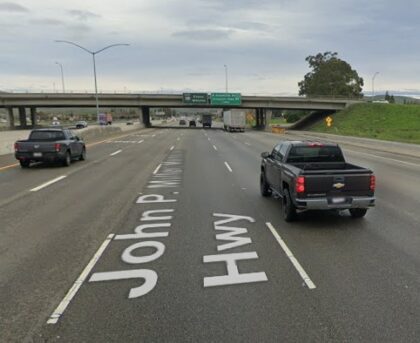 At least one person was killed following a multi-vehicle crash in Livermore on Thursday morning, May 25, 2023.
According to the California Highway Patrol, the collision involving four vehicles, including a Mustang, was reported around 3:31 a.m. on the eastbound lanes of Interstate 580 near Vasco Road.
Authorities reported that the Mustang's driver was traveling at a high rate of speed when it collided with a pickup truck. Two other unspecified vehicles were involved in the collision as the Mustang descended the highway.
The Mustang driver sustained fatal injuries, and there was no immediate information about other possible injuries. At this point, no additional information has been revealed, and it is unknown whether alcohol or drugs played a role in the collision.
Anyone with information is strongly encouraged to contact the police immediately. The collision investigation continues.

Trustworthy Reckless Driving Accident Attorneys in Livermore, Alameda County
If you or a loved one are injured due to another driver's negligence, you can sue for damages. Consult a California personal injury attorney if you or a loved one were injured in a car accident that was not your fault.
During our free consultation, one of our seasoned attorneys will examine your case, discuss the next steps, and explain the variables that may influence the final settlement amount.
Our trustworthy Livermore reckless driving accident attorneys at Arash Law, led by Arash Khorsandi, Esq., have years of experience advocating for accident victims, resulting in $400 million in compensation.
To schedule a free consultation with one of our attorneys, please call (888) 488-1391 or submit the "Do I Have a Case?" form.
What To Do After A Car Accident
Staying prepared is imperative because car accidents can happen anywhere at any time. Anyone involved in a car accident knows how important it is always to be prepared. Follow these steps to ensure safety and protect your rights:
Check the condition of those involved and remain at the scene.
If feasible, move disabled vehicles to the roadway's shoulder. Keep your emergency lights on to prevent further collisions. Wait in a secure location for law enforcement to arrive.
Report the accident to the police. The authorities will compile data, document it, and include it in an official record.
Share your insurance and contact information with the other driver(s) involved in the accident. Take photographs of the vehicles, license plates, and other pertinent information.
Do not tell anyone, including police officers. Focus on the incident's details with a police officer.
Seek immediate medical attention. Consult the nearest hospital or primary care doctor.
California insurers are required to report accidents. When reporting an accident, call the agent immediately and follow their instructions.
Provide only the required information to the claims adjuster. Do not record statements or accept settlement offers from insurance companies before consulting an attorney.
Collect and store all relevant accident documentation. The victim should obtain a copy of the police report, details about the other driver, medical expenses, injury treatment plans, and other pertinent documents.
Our risk-free consultations allow you to discuss auto accidents without obligation or risk. Call us at (888) 488-1391.
Fatal Reckless Accident Statistics
Automobile collisions are the leading cause of accidental fatalities and injuries in the United States. Two million people are killed yearly, and ten million are injured in automobile accidents.
The National Highway Traffic Safety Administration defines irresponsible driving as willful disregard for other road users' safety. In 2020, the NHTSA recorded 11,258 speeding fatalities.
AAA estimates that reckless driving caused 56% of all traffic accidents between 2003 and 2007.
Speeding is the primary cause of fatal car accidents in the United States. In addition, drunk driving contributes to traffic accidents on American roads.