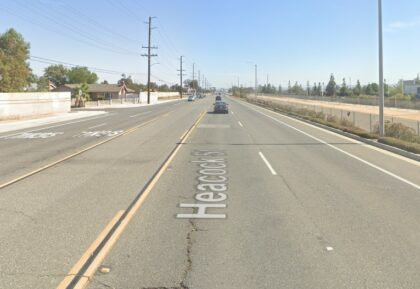 A Riverside County Sheriff's vehicle struck and killed a pedestrian in Moreno Valley on Thursday morning, May 25, 2023.
According to the California Highway Patrol, the fatal collision occurred on Cactus Avenue between Heacock Street and Gilbert Street at around 4:00 a.m.
The victim was struck close to the center median that separates both directions of Cactus Avenue. The sheriff's patrol vehicle was found at the scene with damage to its front hood and right fender.
The officer driving the vehicle implemented life-saving measures for the pedestrian but was unsuccessful in reviving the victim. The officer did not sustain any injuries.
The victim's information was not immediately available.

Competent Pedestrian Accident Attorneys in Riverside County
There is less protection for pedestrians against collisions than for drivers, passengers, and cyclists. If a pedestrian is injured or killed in an accident, they may sue the negligent driver.
During the settlement process, we will review your case, advise on the next steps, and analyze the factors affecting your offer.
Our Riverside County pedestrian accident lawyers at Arash Law, led by Arash Khorsandi, Esq., have extensive experience advocating for pedestrians injured in accidents.
Our clients have been awarded $400 million in compensation.
You may contact us for a free consultation by calling (888) 488-1391 or completing our "Do I Have a Case?" form.
What to Do After a Pedestrian Accident
It can be challenging to keep your composure in the aftermath of a collision, especially if it results in the death of a loved one. Remember that your actions and the words you use at the scene of the accident can significantly impact the outcome of your claim against the party at fault for the accident. If you want to preserve the value of your injury or wrongful death claim, follow the steps below.
It is essential to report the collision to local authorities and to request a copy of the accident report.
Take photographs of the involved vehicle, accident scene, injuries, and property damage.
You should capture images of the license plate, the insurance card, and the driver's license.
It is advisable to gather potential eyewitnesses' names and contact details.
It is recommended that you seek immediate medical care. All affected areas should be reported to your primary care physician or doctor.
Maintain documentation of your injuries, recovery, and associated medical costs.
Consult an experienced lawyer before speaking to an insurance adjuster or accepting a settlement offer.
You should avoid revealing information about your accident or the circumstances leading to it on social media.
Call us at (888) 488-1391 to discuss your accident with one of our pedestrian accident attorneys.
Fatal Pedestrian Accident Statistics
Pedestrian accidents are more likely to result in fatalities and severe injuries; injuries and fatalities caused by pedestrian accidents are rising on American roads.
Pedestrian accidents have caused the majority of traffic fatalities in recent decades.
The number of pedestrian deaths in the United States in 2017 was 5,977. In 2020, California reported 55,000 pedestrian injuries and 6,514 fatalities as a result of pedestrian accidents. Approximately 88 people die every minute as a result of pedestrian accidents.
Awareness of your surroundings is the most important thing to remember as a pedestrian. Always check the area around you when walking on the roads to avoid becoming a statistic.