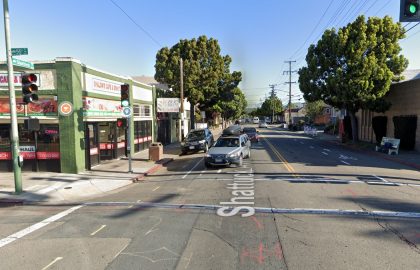 A 60-year-old man identified as Jonathan W. was killed after a fatal bike accident in North Oakland on Friday night, May 27, 2022.
The accident happened in the area of Shattuck Avenue and 55th Street in North Oakland at approximately 10:30 p.m.
The victim was riding a bicycle along the road when he was suddenly struck by a passing vehicle for unclear reasons.
The bicycle rider was rushed to an area hospital. Unfortunately, he later succumbed to his injuries and was pronounced deceased.
The driver that struck the man remained at the scene and willingly cooperated with authorities. It's unclear whether intoxication was a factor in the crash.
The Oakland Police Department is further investigating the case. Witnesses are urged to call Oakland police traffic investigators at 510-777-8570.


Fatal Bicycle Crash Statistics
Biking is becoming increasingly popular in the United States as a mode of transportation, exercise, and recreation. Bicycles on the road have the same legal rights and obligations as motor vehicles and must be obeyed accordingly.
Riders, on the other hand, must deal with the consequences of bicycle accidents. The number of bicycle accidents in the United States decreased from 50,000 in 2014 to 45,000 in 2015. Despite a drop in bicycle accidents, bicycle fatalities have increased by 12% in the United States.
According to National Center for Health Statistics data, 712 bicyclists were murdered by motor vehicles, while 377 were killed by other methods.
Bicycle riders are required to wear a helmet when riding a bicycle. Wearing a helmet, according to Reuters, reduces the chance of severe brain injury by 52% and mortality by 44%.
Staying safe on your bike necessitates a concerted effort. Bicyclists who want to avoid accidents should always use safety gear, know the rules of the road, and stay alert at all times.
Alameda County Fatal Bicycle Accident Lawyers
Accidents can happen to anybody and at any time. Losing a family one in a bicycle accident in the blink of an eye can be traumatic. Contact an expert Alameda County bike accident lawyer at Arash Law as soon as possible after the death of a loved one in a fatal bicycle accident.
It can be devastating and distressing to lose a loved one in a terrible bicycle accident. During the continuing inquiry, the victim's family is urged to pursue wrongful death claims.
Under the law, the culpable party must compensate for medical expenditures, lost wages, mental distress, and pain and suffering.
You can count on the legal professionals at Arash Law to protect your interests in court. We'll get you whatever money you're owed. If you are involved in a bicycle accident in California, do not hesitate to contact Arash Law. You can also reach us by phone at (888) 488-1391 or by filling out our contact form.