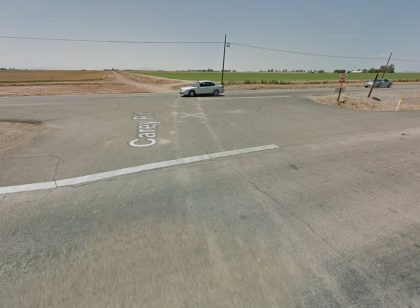 One unidentified person was killed following a deadly two-vehicle crash on Highway 86 on Wednesday evening, June 1, 2022.
According to the initial reports from the California Highway Patrol, the accident happened on Highway 86 and Carey Road at around 5:00 p.m.
A vehicle crashed into a tractor for unclear reasons. Due to the severity of the impact, the car caught fire following the collision.
The driver of the car was killed in the mishap, they were pronounced dead at the scene. The identities of the involved parties have not been disclosed.
It's unclear whether other people were injured in the mishap. Additional information about the case is unavailable at the moment.
Local authorities are further investigating the cause of the fatal acccident and the liability.


Fatal Two-Vehicle Crash Statistics
When it comes to lovely weather and interesting places to visit with friends and family, California offers it all. Because so many people wish to live in California, the number of people who live there has grown. California, on the other hand, has some drawbacks. It has one of the lowest driver safety percentages in the country.
California has the highest number of car accidents and fatalities due to vehicle collisions, according to the Insurance Institute for Highway Safety's (IIHS) Fatality Facts 2018 research.
Because of California's enormous population, there are many more drivers on the road, perhaps leading to higher auto accident rates across the state.
Between 2014 and 2016, there was a significant increase in fatal crashes. However, there were minor ups and downs between 2017 and 2020. The number of motor vehicle deaths in California has increased by 5%, from 3,540 in 2019 to 3,723 in 2020.
Drunk drivers, distracted drivers, fast drivers, and drivers who break traffic laws are the most common causes of car accidents in general.
Imperial County Fatal Car Accident Lawyers
Whether or not the driver broke the law, when they cause a fatal car accident, they are responsible for the damage they cause. Legal action by a dedicated and skilled lawyer is the best way to make sure that the family of a person who died because of someone else's wrongdoing gets paid.
An experienced Imperial County fatal car accident lawyer can assist you in filing your claim. If you hire an experienced lawyer as soon as possible, you have a better chance of getting the money you deserve for your injuries. With a lawyer, you can fight the insurance company and get the money you are owed for your claim.
If a loved one has died in a car accident, our compassionate and knowledgeable Imperial County fatal car accident lawyers are here to help you through this hard time. Because of how aggressively we go to court, Arash Law has been able to get more than $500 million for clients just like you.
Call Arash Law right away at (888) 488-1391 or get in touch with us online to set up a free, no-obligation evaluation of your fatal car accident case.