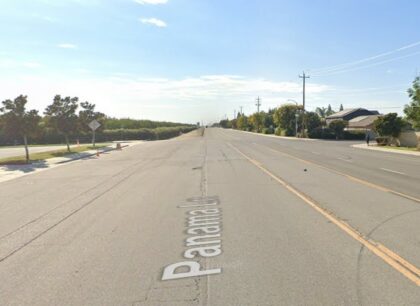 Two people were injured following a two-vehicle crash involving a police car in Bakersfield on Thursday afternoon, June 1, 2023.
According to the Bakersfield Police Department, the BPD patrol car collided with a civilian's vehicle at approximately 1:52 p.m. while traveling eastbound on Panama Lane.
The collision occurred when the civilian's vehicle turned southbound from Panama Lane onto Hammond Way in front of the patrol car.
The driver was reportedly transported to a local hospital with a minor injury, while the officer complained of body pain.
Officials said drugs and alcohol were not a factor in the collision, and no further information was revealed.
The investigation into the collision is ongoing.

Proficient Car Accident Lawyers in Bakersfield, Kern County
If you were injured in a car accident in California, you have the right to file a claim against the negligent party. Acting quickly and seeking legal counsel is critical when dealing with insurance claims.
Our law firm is eager to assist accident victims in filing a personal injury or wrongful death claim following a car accident.
You can rely on our renowned Bakersfield car accident lawyers at Arash Law, led by Arash Khorsandi Esq., to protect your rights throughout the legal process. Our attorneys have the knowledge and commitment to represent car accident victims. For California clients, we have recovered over $500 million in compensation.
Call (888) 488-1391 to schedule a free consultation or complete our "Do I Have a Case?" form.
What To Do After A Car Accident
Drivers must always be alert and prepared because car accidents can occur anytime and anywhere. Take the following steps if you have been in a car accident to protect your rights and stay safe:
Stay on the scene and check your body for injuries. Examine the condition of other people involved.
If possible, move disabled vehicles to the side of the road. To avoid further collisions, keep your emergency lights turned on. Wait for law enforcement in a secure location.
Notify the authorities of the accident. Data will be collected, documented, and entered into an official record by the authorities.
Obtain the driver(s)' insurance and contact information. Photograph the vehicles, license plates, and any other relevant details.
Never, ever admit fault to anyone, including the authorities. When speaking with police officers, focus on the necessary details of the accident.
Seek medical attention as soon as possible. As soon as possible, visit your local hospital or primary care physician to reduce the severity of your injuries. Also, scans and tests can detect internal injuries that haven't manifested symptoms.
Accident reporting deadlines exist for California insurance companies. Call as soon as possible to report your accident. When reporting the crash, follow the agent's instructions.
Stick to the facts and be mindful when speaking with the claims adjuster. Avoid recording statements or accepting settlement offers from insurance companies before consulting with an attorney.
Gather and organize all relevant paperwork regarding the accident. Victims should have a copy of the police report, information about the other driver, medical bills, treatment plans for injuries, and other pertinent documents.
Our free consultations allow you to discuss the accident without risk or obligation. If you have further questions, don't hesitate to contact us at (888) 488-1391.
Two-Vehicle Collision Statistics
Traffic accidents are the leading cause of fatalities and serious injuries in the US, particularly among children aged 2 to 34. In the United States, a car accident occurs every 60 seconds.
In California, vehicles are responsible for over 10,000 deaths annually. In 2020, The Fatality Analysis Reporting System (FARS) documented 35,766 fatal collisions and 38,820 fatalities.
Since 2013, the state has had 23.5% more fatal car accidents. In addition, there were 485,866 auto accidents in 2017, resulting in 3,898 fatalities and 276,823 injuries. In 2018, there were nine traffic-related fatalities per 100,000 state residents.
Even when driving cautiously, motorists can cause death or severe injury to others. Consequently, safe driving and vigilance on the road are essential.