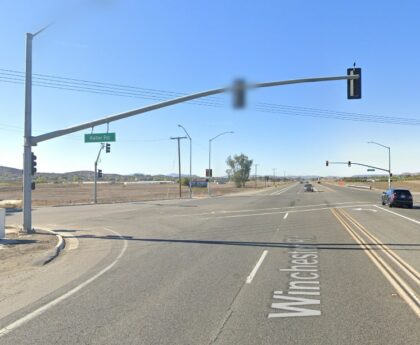 One person was killed while two others sustained major injuries after a two-vehicle collision near Winchester, Riverside County, on Thursday evening, June 1, 2023.
According to the Riverside County Fire Department, the incident happened on Winchester Road and Keller Road south of the census-designated place of Winchester at around 9:02 p.m.
When the firefighters arrived at the scene, they found one victim dead at the scene. They found the second and third victims who sustained major injuries.
In order to transport the first surviving victim to a nearby medical center, a Reach Air ambulance was needed. The third victim was transported to a nearby hospital by land units.
The first victim's identity is being withheld until the next of kin has been notified.

Respected Car Accident Lawyers in Riverside County
Survivors of serious car accidents usually have a difficult time recovering. Medical bills can reach tens of thousands of dollars for long-term injuries.
There is a tendency for insurance companies to give you as little money as possible. If you accept an insurance company's settlement offer before consulting an experienced lawyer, you may be entitled to unfair compensation.
You can rely on us to help you throughout the lengthy insurance company negotiation.
Our skilled Riverside County car accident attorneys at Arash Law, led by Arash Khorsandi, Esq., have dedicated their careers and years of experience to representing car accident victims. Call (888) 488-1391 or fill out our "Do I Have a Case?" form to schedule your free consultation and learn how we can help you.
What Should You Do After A Car Accident?
Car accidents are frightening experiences that leave you uncertain of what to do next. However, it is critical to protect car accident victims' legal rights and seek compensation for their injuries and losses. If you've been involved in a car accident, you need to follow these steps:
Examine your own body for injuries. Also, check the condition of those involved.
Move disabled vehicles to the side of the road if possible. Find a secure location to wait for the authorities.
Inform the authorities about the accident. Law enforcement officers will document the accident and compile an official report.
Find out more about the driver(s). Also, snap pictures of vehicles, license plates, injuries, damages, and other relevant information.
Do not admit fault. When recounting the events of the collision, stick to the facts.
Seek medical attention as soon as possible. Call your doctor or go to the nearest hospital. Tests and scans can detect internal injuries that do not show symptoms.
Notify your insurance provider. Most insurance companies have deadlines for reporting accidents. Follow the agent's instructions when making the report.
Make contact with the claims adjuster. Before recording statements or accepting settlement offers, consult with an attorney.
Organize accident documents such as the police report, medical bills, information about the other driver, and injury treatment plans.
Please get in touch with our experienced California car accident lawyers. Call us at (888) 488-1391.
Fatal Two-Vehicle Collision Statistics
Every 60 seconds, a car accident occurs in the United States. Among people aged 2 to 34, traffic accidents cause a high percentage of fatalities and severe injuries.
The number of deaths caused by vehicles in California each year exceeds 10,000. According to the Fatality Analysis Reporting System (FARS), 35,766 fatal crashes and 38,824 fatalities occurred in 2020.
The state has had 23.5% more fatal car accidents since 2013. A total of 485,866 car accidents occurred in 2017, resulting in 3,898 deaths and 276,823 injuries. In 2018, the state had nine traffic fatalities per 100,000 residents.
Even when driving carefully, drivers cannot guarantee that others' lives will not be at risk. That said, a safe and defensive driving style is always essential.