Four people were killed Sunday in a head-on collision involving two motorcycles in the Modjeska Canyon area of Orange County, officials said. Read The Official Press Release
The wreck was reported at about 4:30 pm on Santiago Canyon Road close to Modjeska Canyon Road, according to the CHP. Santiago Canyon was shortly after closed in both directions from Silverado Canyon to Hicks Haul Road.
Investigators say the two motorcycles were heading in opposite directions when the one heading northbound tried to pass on a Scion TC and crashed head-on into the other motorcycle heading southbound.
Two male motorcyclists and their two female riders passed-away at the scene — each one the motorcycle riders were also wearing helmets.
Officials affirm that section of Santiago Canyon Road includes a double yellow line, meaning it is against the law to pass traffic. It is not easy to see oncoming traffic in the area because of curves in the road they said.
"It's a pretty awful scene," said CHP Officer Florentino Olivera, "Probably one of the worst ones we've seen in a while."
The motorist of the Scion the motorcyclist tried to pass was not directly involved in the wreck but remained in the scene to speak with the CHP.
Officer Olivera said there is no reason to pass a different vehicle, especially not approaching a blind turn.
"Be patient with drivers in front of you," he said, "If they're going the speed limit, and you're in a hurry for some reason, do not pass that vehicle if it's going to be too dangerous for you."
The canyon is a popular route for motorcyclists, especially in the summer-time, including signs to remind motorists to look out for bikes on the road. The CHP said it frequently gets calls for excessive motorcycle noise and speeding in the region.
California Motorcycle Accidents Caused by Negligent Behavior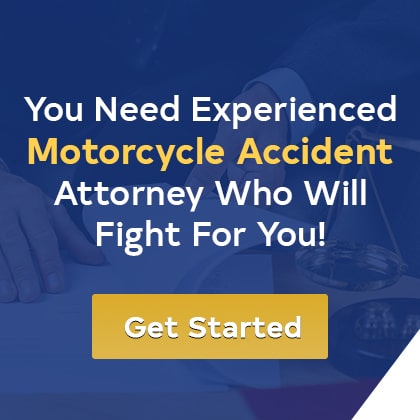 Just as it is with any other type of accident that may occur, determining who the person is that is at fault is determining what a person was acting negligently in a traffic accident.
A person driving could be considered to be liable for an accident if they were intentionally found to be acting recklessly. Driving recklessly is driving in an unsafe way that is disregarding the possibility of operating in this manner could potentially cause an accident.
For the majority of these types of accidents, you can tell through instinct when a motorcyclist, driver, pedestrian, or bicyclist has acted carelessly, but you cannot always determine what that person has violated law or laws.
It is an attorney's job to help to determine who the person was that was at fault for any car or motorcycle accident you are involved in, and they will sort through many different sources, such as, witnesses, police reports, and the state traffic laws.
The courts will also look into a variety of different deciding factors to determine whether or not the driver involved was acting negligently.  Ten of the most common factors that they may use are:
Not following signals or traffic signs correctly.
They are not using their signals when they are turning.
They are driving at a speed that is below or above the speed limit that is posted.
They are not paying attention to traffic conditions or weather conditions.
When a driver is under the influence of alcohol or any drugs.
Driving in a Reckless Manner
Passing improperly, such as, not signaling when making a turn, using an emergency lane, shoulder, or median to pass another vehicle.
The person is driving to fast for the conditions on the road currently or driving faster than the posted speed limit for that area.
Excessive changing of lanes and/or improper changing of lanes.
Not checking properly that a lane change can be completed safely or not signaling to do so.
If you have questions regarding negligence, our unrivaled accident attorneys in Orange County can help!
Have you or someone you love been hurt or had property damaged from a car or motorcycle accident, then you may have a reason to file a personal injury lawsuit. The best way to get the answers you need is to call our office at (888) 488-1391 — our consultations are free, and there is no fee unless we win your case! Our lawyers have over 30 years of experience in solving and winning cases for our motorcycle accident clients, and we can help you!
Keep Reading:  Our Motorcyclist's Guide To Safe Lane-Splitting
---
FOR IMMEDIATE RELEASE

Motorcycle Accident Near Modjeska Canyon Results in Four Fatalities

ORANGE COUNTY, Cal., July 8, 2019 – Two motorcycles collided head-on in the Modjeska Canyon area of Orange County on Sunday, July 7, 2019, at about 4:35 p.m. One motorcycle was carrying a man and woman, both in their 60s, while the other had a man and woman ages 35 and 40. All four motorcyclists involved were pronounced dead by first responders at the scene of the accident. 

Witnesses told California Highway Patrol (CHP) officers that one motorcycle was traveling northbound and was likely speeding. That motorcyclist tried to pass another northbound vehicle on the left by using the southbound lane. The motorcycle then collided head-on with another motorcycle heading south. Authorities reopened the road after conducting their investigation, which indicated speeding was a major factor in the crash. If the first motorcyclist is deemed responsible for causing the crash, the families of the other three victims may be entitled to compensation for wrongful death under California law.

Arash Law is a law firm handling personal injury and wrongful death cases throughout the State of California. The team of attorneys has extensive experience helping clients after serious traffic accidents and injuries, and anyone affected by a crash should schedule a free case evaluation as soon as possible.

---

Arash Law
2960 Wilshire Boulevard
Los Angeles, CA 90010
Phone: (310) 277-7529