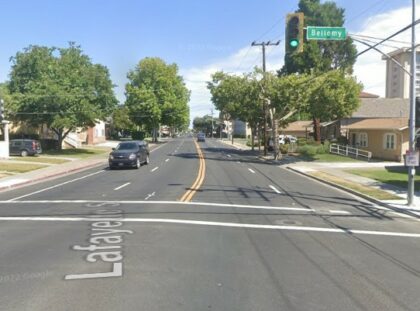 At least two people were injured after a DUI single-vehicle crash in Santa Clara on Saturday morning, September 2, 2023.
According to the Santa Clara Police Department, the crash occured before 5:45 a.m. at Lafayette and Bellomy Street intersection.
Authorities reported that officers discovered a vehicle with three occupants that appeared to have collided with a stationary object upon arrival. First responders transported two of the three individuals to a hospital for treatment.
Police are investigating the crash and have stated that alcohol appeared to be a factor. There was no other information revealed, including the other person's condition.
The investigation into the crash continues.
Dedicated DUI Accident Victim Lawyers in Santa Clara, CA
A drunk driver can be sued if they cause an accident that injures you or a loved one. These crimes often leave victims in a financial bind, such as lost wages, medical expenses, and other problems.
Our experienced legal team is committed to supporting and assisting DUI accident victims. Drivers should be held accountable if they choose to drive under the influence. A driver who gets behind the wheel under the influence puts the safety of others at risk.
You can rely on our most trusted Santa Clara DUI accident victim lawyers at Arash Law, led by Arash Khorsandi, Esq., to help you with the insurance claim or effectively represent you in court proceedings.
Our firm has recovered over $500 Million for California clients and is widely acknowledged for its tenacity and success as one of California's leading personal injury law firms.
If you want to speak with one of our lawyers, please call (888) 488-1391 or fill out the "Do I Have a Case?" form.

What to Do After a DUI Accident
Drunk driving accidents can cause psychological and physical harm. How can you ensure your safety after an incident and protect your rights? You need to follow these steps:
Do Not Admit or Accept the Blame: It's important to avoid accepting or admitting fault for the accident, as this could harm your case and affect your ability to receive compensation for damages.
Do Not Make a Statement: Avoid making any statements about the incident without consulting with an attorney, as these statements could be used against you in legal proceedings.
Avoid Early Settlement Negotiations: Avoid settling too early, as this could result in a lower compensation amount. It's essential to clearly understand the extent of your damages before considering any settlement offers.
Sign Documents: Only after consulting with an attorney to protect your rights before signing any documents.
Work Through Your Lawyer: Work with an experienced California DUI accident lawyer to navigate the legal process and ensure you receive fair compensation for damages. Your attorney can help you understand your legal options and represent you in court if necessary.
DUI Accident Statistics
Drunk or drugged driving carries severe financial and legal consequences no matter what the drug is, whether it is prescription medications, illegal drugs, or marijuana. For first-time offenders, the associated costs can reach up to $10,000; in California, an offense is estimated to cost approximately $13,500.
According to the Office of Traffic Safety, disturbingly, in 2018, 42% of drivers involved in fatal accidents tested positive for drugs, and this percentage continues to rise each year. In an effort to reduce injury and fatalities due to drunk driving in California, the Office of Traffic Safety and a number of stakeholders are actively raising awareness.