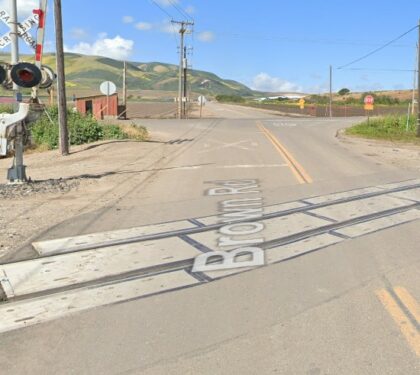 A woman driving her car got stuck on railroad tracks and collided with a passenger train carrying 95 people in Santa Barbara County on Monday afternoon, September 4, 2023.
The California Highway Patrol responded to the accident around 5:00 p.m. south of Guadalupe, near Highway 1 and Brown Road.
Reports indicate that the driver was able to exit the vehicle safely. However, the train failed to stop on time, eventually hitting the vehicle and pushing it over 600 feet along the tracks.
Authorities state that none of the 95 passengers on the train were injured, and the stuck vehicle driver was not showing any signs of injuries either.
The CHP is investigating the incident, and the factors that got the car stuck on the tracks are being determined.
Dedicated Train Accident Lawyers in Santa Barbara County
If you were injured or your loved one was wrongfully killed in a train accident, you should hire legal representation as quickly as possible. You can discuss your case with us if an insurance claim has been filed or will be filed due to wrongful death.
During your free consultation, one of our lawyers will assess your case, explain the following steps, and discuss what could impact the final settlement offer with you.
Our dedicated Santa Barbara train accident lawyers at Arash Law, under the supervision of Arash Khorsandi, Esq., have been recognized and awarded for their efforts in representing victims of fatal collisions. Our firm has recovered more than $500 Million for California Clients and is widely acknowledged for its success and reputation as one of California's leading personal injury law firms.
Call us at (888) 488-1391 or fill out our "Do I Have a Case?" form to set up a free consultation with one of our lawyers.


What Should You Do After a Train Accident?
The following steps should be taken if you or someone you know is involved in a train accident:
Call 911 as soon as possible to report the crash. Obtain the police report, which would be vital to your claim.
Medical attention should be sought immediately to reduce the severity of the injury. It is possible to detect internal injuries that have not yet manifested symptoms through scans and tests.
Obtain the contact information of everyone involved in the collision, including the witnesses. Include their names, phone numbers, and insurance information, and do not forget to photograph the license plates, vehicles, and other potential evidence.
State the facts when speaking with the insurance company. Do not exaggerate details about the fatal collision or accept insurance settlement offers before discussing them with a lawyer.
Consult our California train accident lawyers to maximize your insurance coverage.
Train Accident Statistics
Eight hundred ninety-three people died in train accidents in 2021. The number is 20% greater than the total of 744 in 2020. Also, 2021 recorded 5,781 individuals admitted to hospitals due to nonfatal injuries, a 4% increase from the total number admitted in 2020, which was 5,544.
The National Safety Council reported that deaths at highway-rail crossings increased by 21% between 2020 and 2021, while deaths involving other accidents increased by 20%. The fatality rate for the latter was 94%, or 617 individuals, all of whom were trespassers.
On average, a train strikes and kills or harms a person or a vehicle every two hours. Over a thousand people die in railway accidents every year. There were about 600 fatalities and 2,300 injuries.
Trains are by far the most efficient mode of transportation in terms of time and cost. The train's conductors' skills and the operation frequency can impact the security of passengers and employees.